2014 US-China SME Partnership Week Held in USA
From June 3rd to 10th, the 2014 US-China SME Partnership Week held in Chicago, Washington D.C. and New York was jointly hosted by Global Alliance of SMEs, Economic Development Partnership of Virginia, U.S.-China Chamber of Commerce, US-China Exchange Association, Zhejiang SMEs Association, Shaanxi SMEs Association, Commerce Chamber of Shandong Non-government Foreign Exchange Cooperation, Wenzhou SMEs Association, and Shanghai Entrepreneur Association.
The Partnership Week is a large-scale US-China enterprises matchmaking event following the 2010 Zhejiang-US SMEs Partnership Week and 2011 US-China SMEs Partnership Week, hosted by GASME. Led by Mr. Frank Cao, Secretary-General of GASME and Mr. Zhou Dewen, Vice President of China Association of Small and Medium Enterprises, a delegation of 95 Chinese enterprises attended this event.
The attending VIPs from US side included Mr. Terry McAuliffe, Governor of Virginia, Senator Adlai Stevenson, Mr. Edward M. Burke, Chairman of Finance Committee, City of Council of Chicago, Mr. Megan Schildgen, Acting Director of Chicago Office of U.S. Department of Commerce, Mr. Maurice Jones, Secretary of Commerce and Trade of Virginia, Mr. Karen Jackson, Secretary of Technology Department of Virginia, Mr. Martin Briley, President of Virginia Economic Development Partnership, Dr. Theresa Mah, Senior Policy Advisor & Director of Asian American Outreach, Office of Governor Pat Quinn, Mr. Siva Yam, President, U.S.-China Chamber of Commerce.
The four major events were US-China Enterprises Matchmaking Conference (Chicago), US-China Enterprises Matchmaking Conference (Virginia), visit to US Headquarters of SBA and visit to United States Military Academy at West Point.
At the meeting with China delegation leaders and representatives in the Center for Innovative Technology in Virginia, Mr. Terry McAuliffe, the Governor of Virginia, delivered a keynote speech. He said, "Ranked as one of states with the fastest economic growth, Virginia has been rated as the Best Business Area by Forbes and CNBC in consecutive years." Mr. McAuliffe described the welcoming business environment in Virginia, including advantageous location, well-developed transportation infrastructure, advanced education system, low-tax policy support, flexible investment environment, and high efficiency government mechanism. Virginia, home to more than 15,000 high-tech companies, has become the primary American technology innovation center, the world biggest bioengineering R&D Center, and has an information industry center second only to Silicon Valley. Moreover, Virginia is also an important area for machinery and equipment manufacturing, as well as for aircraft engine R&D and manufacturing. Mr. McAuliffe expressed his wishes for more investment and business development by strategic Chinese entrepreneurs.
Dr. Theresa Mah, Senior Policy Advisor of the Governor's Office congratulated the event organizers Governor Pat Quinn. In the letter, Governor Pat Quinn highly praised 2014 US-China SME Partnership Week. He is certain that this platform will provide an excellent opportunity to share ideas and promote mutually beneficial economic opportunities. He said it is imperative to further develop the productive partnerships between China and the United States in order to enhance capabilities to foster future business and trade. He also pointed out that Illinois is a state which is committed to promoting trade and economic development with China and other countries. He encouraged potential investors in attendance to invest in Illinois.
Mr. Frank Cao, Secretary-General of GASME, delivered a speech on the US-China Enterprises Matchmaking Conference (Virginia). He said that Virginia is the "Cradle of Presidents" for 8 of the 44 US presidents. Namely, one president would step out from Virginia in every 30 years in respect of the 238 years' history of US. It can prove nothing but that Virginia is a land of much wisdom and talents. Mr. Cao pointed out that after the rapid development in the past 30 years, China has become the world's manufacturing powerhouse. The Chinese enterprises have stepped into a new age, forcing them to improve their roles in the global value chain, integrate with the global economy, and become more robust companies. The major profit of manufacturing industry is generated from R&D and sales, which are mainly controlled by European countries and the United States. So lots of Chinese enterprises are eager to develop overseas, especially in Europe and the United States. Ministry of Industry and Information Technology of the P.R.C. pointed out in the 5-year SMEs Development plan for 2011-2015 that the government shall actively encourage and support qualified SMEs to set up raw material supply bases, processing and manufacturing bases, R&D bases, and international marketing bases overseas. Therefore, on June 22, 2010, GASME carried out the SME Global EZPath program on the 2010 Global SME Expo to create express channels to aid the globalization efforts in SMEs' investment, trade, financing, branding, and technology innovation as well as talent development, to encourage cross-border collaborations among SMEs on broader and higher levels. To promote the SME Global EZPath Program, GASME has held US-China SME Partnership Week in USA in 2010 and 2011, and as well as 2014. GASME has successfully helped over 200 Chinese enterprises to develop overseas. Among which, 4 enterprises went public in USA and Germany, over 30 enterprises made investment in Europe and US, over 20 enterprises set up brand promotion centers in US, over 60 enterprises developed technical cooperation with foreign enterprises, and over 100 enterprises developed trade cooperation with western countries. Regarding Virginia's advantageous investment environment, Mr. Cao stressed two points. Firstly, Virginia is a cluster of innovative talents and innovation resources. The superior innovation environment provides a great support to the enterprise's technical innovation. He considers Virginia a very good place to set up international R&D center for Chinese companies. Secondly, Virginia is located in the heart of the United States, an area with 200 million people, which represents two-thirds of US total population. So the unique geographical location makes Virginia a very suitable place to set up North American Headquarters or marketing centers of Chinese enterprises.
On the US-China Enterprises Matchmaking Conferences, enterprises from both countries cooperated in the fields of international investment and financing, new technology and international trade. Many Chinese companies have found interested US partners for further cooperation through the conference. In addition, U.S.-China Chamber of Commerce signed M.O.U with GASME to promote cooperation between US and Chinese enterprises.
On June 6th, the delegation visited US Headquarter of SBA. Mr. Antonio Doss, District Director of SBA warmly received the Chinese Delegation. Staff of SBA introduced the development situation of US SMEs, US Government's supportive policies, and related service to the Chinese enterprises, followed by Q&A.
On June 8th, the delegation visited USMA at West Point. Over its 200 year history, West Point has cultivated two presidents of the United States, 3700 American Generals. With distinctive modern ideas of leadership, among the world top 500 enterprises, West Point has cultivated 1000 presidents, 2000 vice presidents and 5000 general managers, more than Harvard Business School. The visit to West Point allowed the delegation to experience life and culture on the grounds, which emphasizes self-improvement and enlightenment. The delegation expressed their tremendous admiration of the academy at West Point.
Among the 80 Chinese enterprises, most came from Zhejiang, Shaanxi, Shandong, Shanghai, Guangdong, Hunan, Henan, Jiangsu, Jiangxi, Beijing and Inner Mongolia. IT, electronics, machinery, petrochemical engineering, biological pharmaceutical, medical device, new energy, textile and clothing, hardware and tools, finance and insurance, constructional engineering, real estate, minerals, international trade and modern service industries were represented. Attending Chinese entrepreneurs included Mr. Qi Zeshou, Vice President of Shaanxi SMEs Association, Mr. Jiang Jian, Vice President of Shandong Non-government Foreign Exchange Cooperation, Mr. Zheng Guoqiang, Vice President of Shanghai Entrepreneur Association, Mr. Zeng Zhaoli, chief representative of US-China Exchange Association Hunan Office, Ms. Jiang Tao, Vice President of Qingdao Association of Women Entrepreneurs, Mr. Sun Guofei, Chinese Lead Entrepreneur in Engineering Equipment Manufacturing Industry (General Manager of Shaoxing Jinggong Machinery and Electronics Co., Ltd ), Mr. Fu Chaoliang, Chinese Lead Entrepreneur in Papermaking starch Industry (President of Zhejiang Yizhi Starch Co., Ltd), Mr. Hua Shengrong, Chinese Lead Entrepreneur in rubber products industry (President of Shanghai Jun Yan Fa Industry Co., Ltd), Mr. Pang Wei, Chinese Lead Entrepreneur in plastic products (President of Haishihao Plastic &Rubber Co., Ltd) and etc.
With practical and impressive results, 2014 US-China SME Partnership Week was a success and was highly praised by all parties. The event was covered in the media by the China Daily (US Version) and the World Journal.
This event was held with the support of China Telecom Americas and Embassy of China in the US.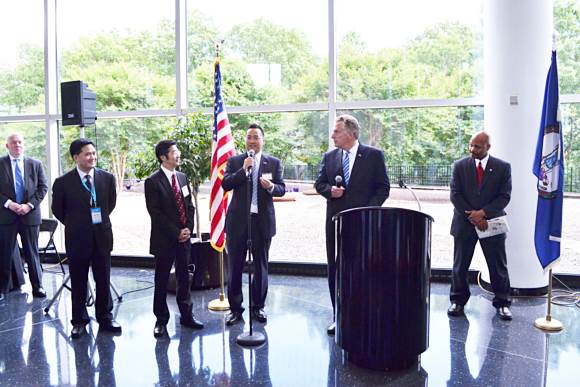 Mr. Terry McAuliffe, Governor of Virginia, is addressing the attending entrepreneurs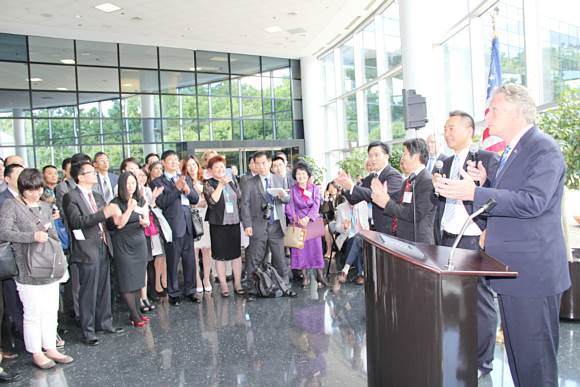 Mr. Terry McAuliffe, Governor of Virginia, is addressing the attending entrepreneurs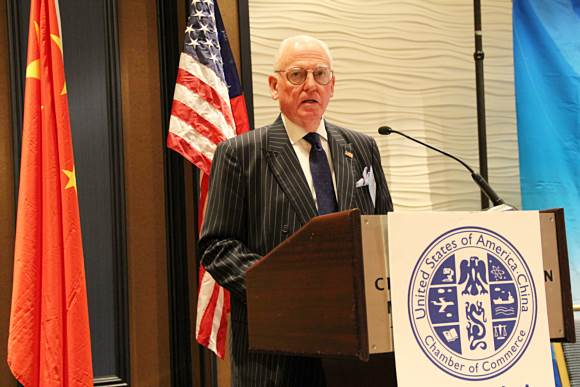 Mr. Edward Burke, Chairman of Finance Committee of the Chicago City Council is making a speech at the Chicago Enterprise Matchmaking Conference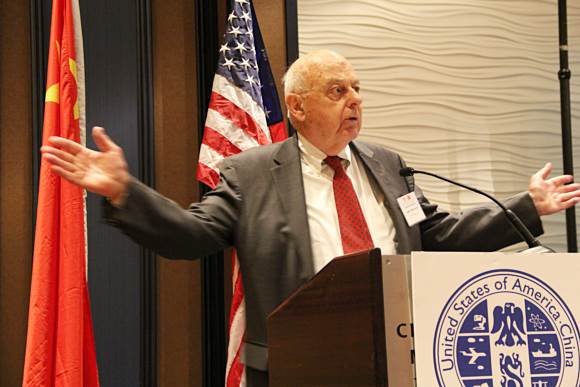 Mr. Adlai Stevenson, US Senator, is delivering a speech at the Chicago Enterprise Matchmaking Conference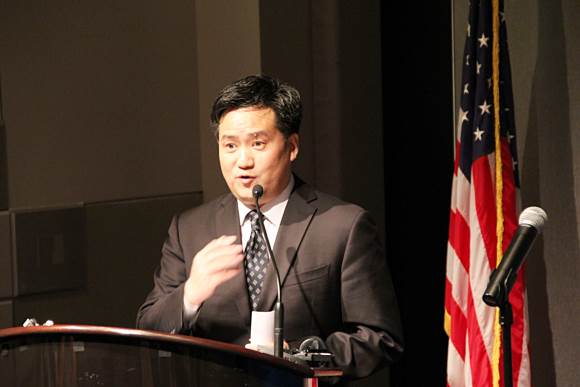 Mr. Frank Cao, Secretary-General of Global Alliance of SMEs is delivering a speech at the matchmaking conference in Virginia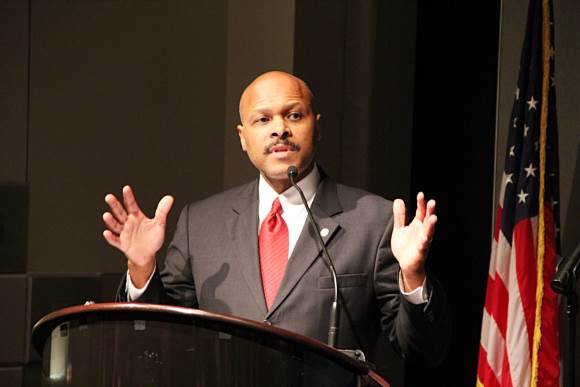 Mr. Maurice Jones, Secretary of Commerce and Trade of Virginia, is making a speech at the conference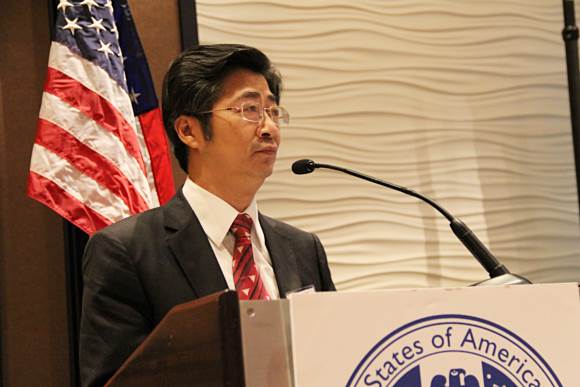 Mr. Zhou Dewen, Vice Chairman of China Association of SMEs is making a speech at the Chicago conference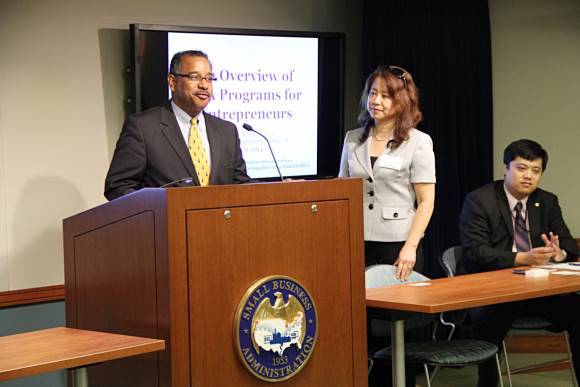 Mr. Antonio Doss, District Director of Washington D.C. District Office, U.S. SBA is delivering a speech
Mr. Terry McAuliffe is giving a gift to Mr. Frank Cao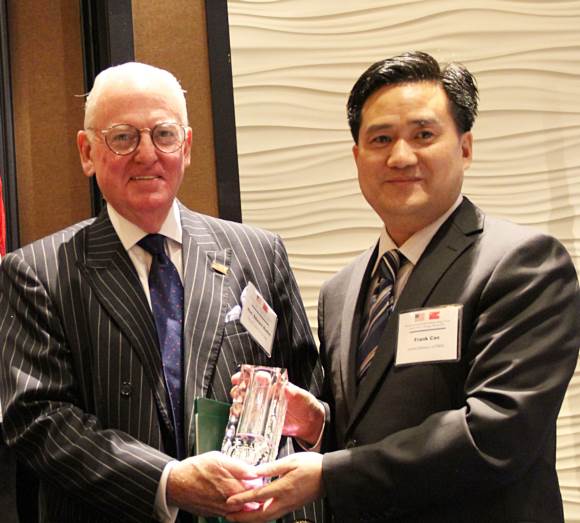 Mr. Frank Cao is giving a gift to Mr. Edward Burke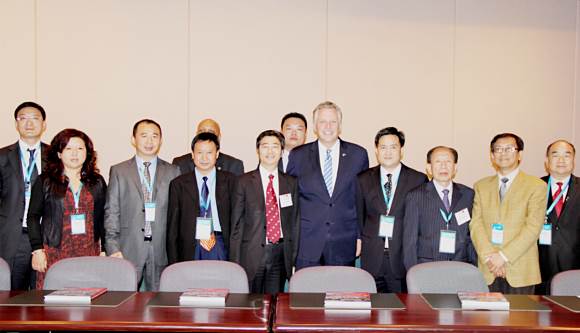 Photo of the Governor of Virginia with the China Delegation Leaders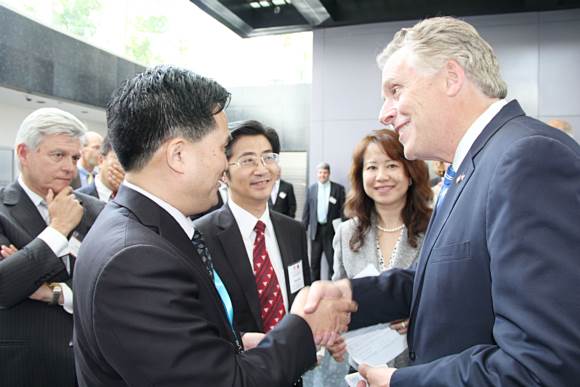 Mr. Terry McAuliffe is having a cordial talk with Chinese entrepreneurs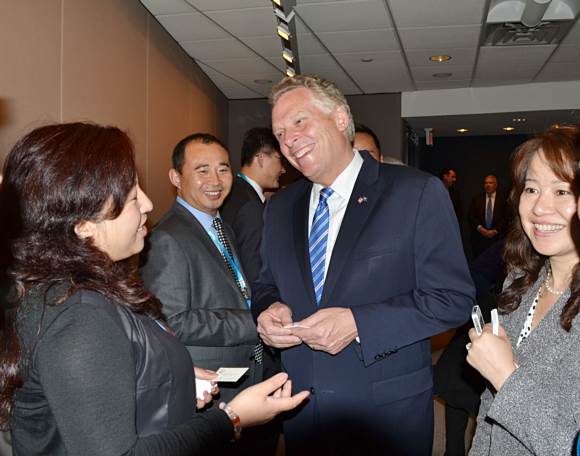 Mr. Terry McAuliffe is having a cordial talk with Chinese entrepreneurs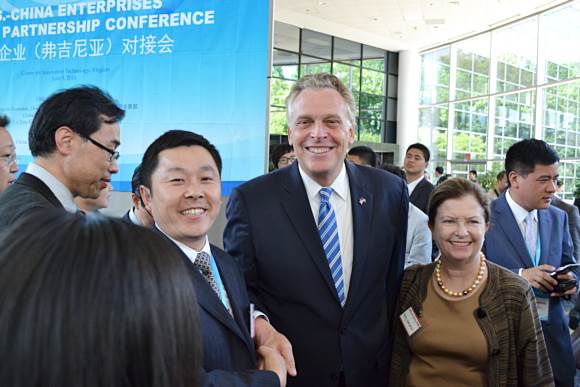 Mr. Terry McAuliffe expresses his warm welcome to attending Chinese entrepreneurs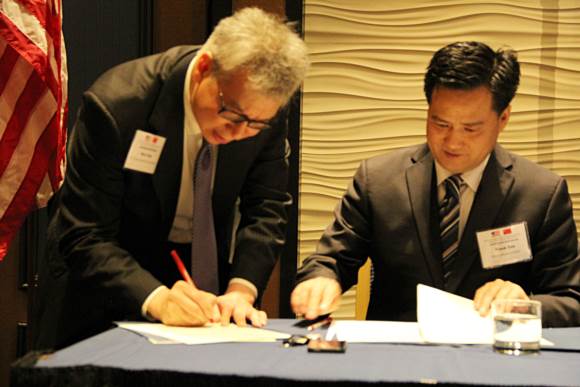 The signing of strategic agreement between GASME and U.S.-China Chamber of Commerce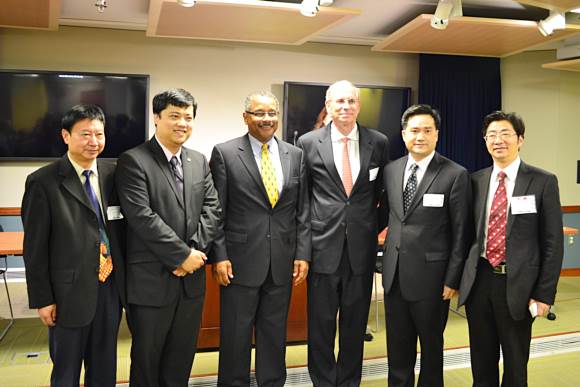 Photo of Mr. Antonio Doss, Mr. Ronald Bew, the Senior Vice Chairman of GASME with China Delegation Leaders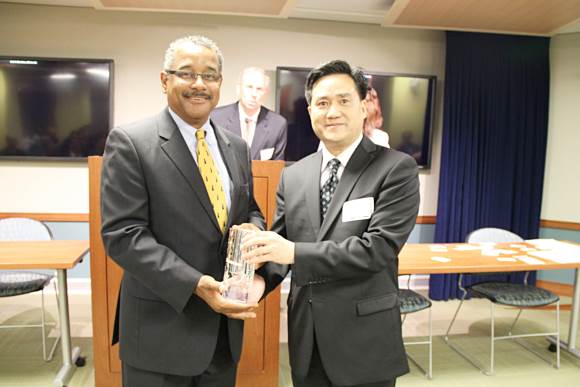 Mr. Frank Cao is presenting a gift to Mr. Antonio Doss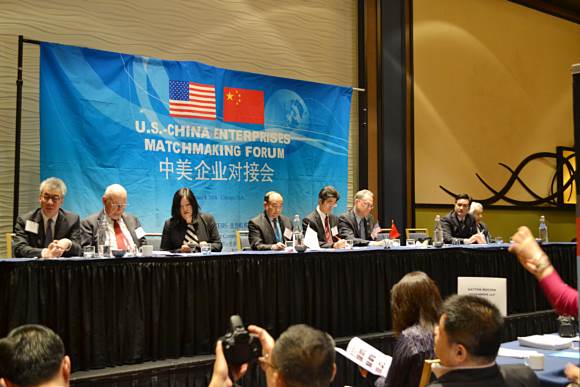 Chicago Enterprises Matchmaking Conference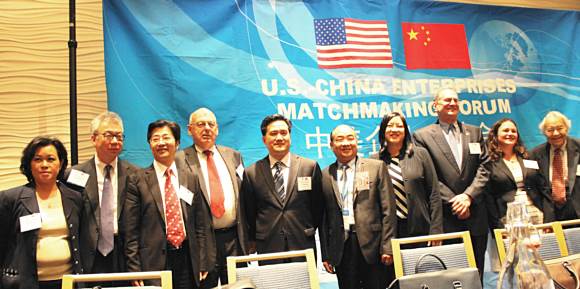 Chicago Enterprises Matchmaking Conference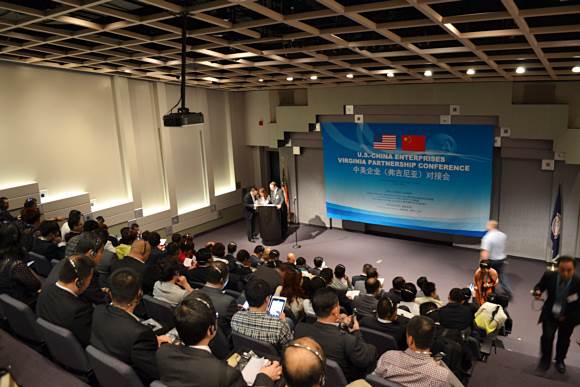 Virginia Enterprises Matchmaking Conference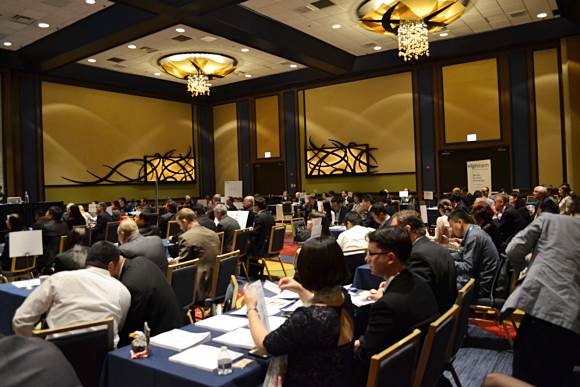 Chicago Enterprises Matchmaking Conference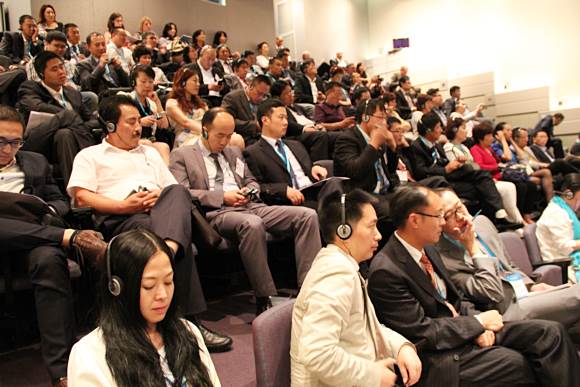 Virginia Enterprises Matchmaking Conference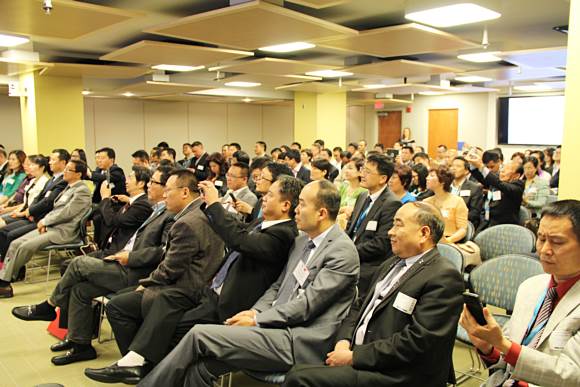 The visit of China Delegation to SBA Headquarters in Washington D.C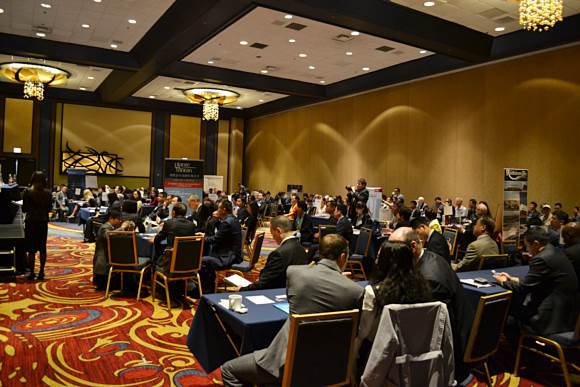 Chicago Enterprises Matchmaking Conference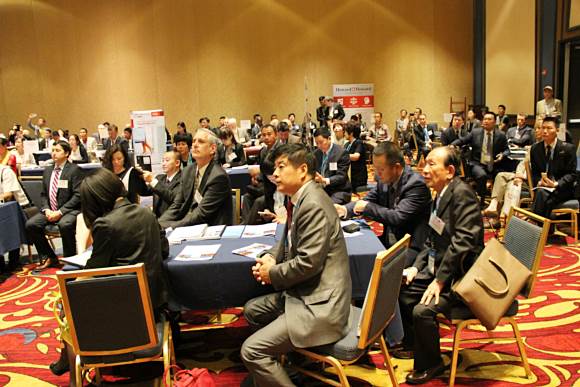 Chicago Enterprises Matchmaking Conference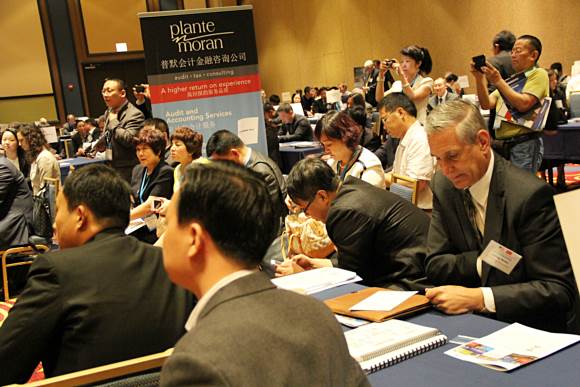 Chicago Enterprises Matchmaking Conference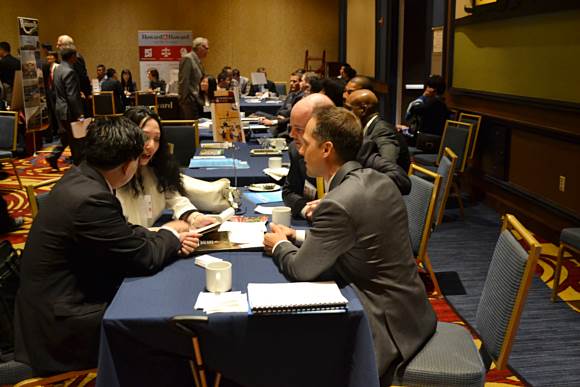 Chicago Enterprises Matchmaking Conference
Virginia Enterprises Matchmaking Conference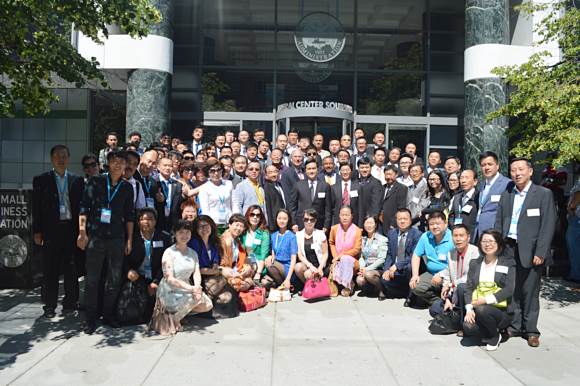 Photo of China Delegation