GASME News
Global Alliance of SMEs Gained Special Consultative Status with the Economic and Social Council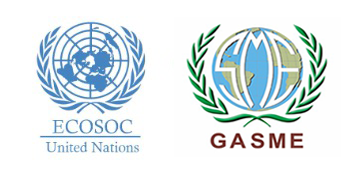 On December 21st, 2021, Global Alliance of SMEs (GASME) received an official letter from the Non-Governmental Organizations Branch of the UN, stating that the Economic and Social Council has granted Special Consultative Status to GASME.
This is the second time that GASME was granted Consultative Statues with a UN organization after gaining Consultative Statues with the United National Industrial Development Organization (UNIDO) in November, 2012.
The Economic and Social Council of the United Nations (ECOSOC) was established in 1945 as one of the six main organs of the UN. It is at the heart of the United Nations system to advance the three dimensions of sustainable development – economic, social and environmental.
Consultative status for an organization enables it to engage in a number of ways with the United Nations Secretariat, ECOSOC and its subsidiary bodies, the Human Rights Council, the General Assembly and other intergovernmental bodies. Organizations with Consultative status could also submit professional information and advice on subjects in which they have a special competence, and designate official representatives to the United Nations Headquarters in New York and the United Nations Offices at Geneva and Vienna to sit as observers at public meetings of ECOSOC and its subsidiary bodies, the Human Rights Council, the General Assembly and other United Nations intergovernmental bodies.
GASME was granted Consultative Status with ECOSOC mainly because of its great contribution to the following two fields: first, promote cooperation and sustainable development of global SMEs; second, advocate economic globalization and facilitate trade and investment.
Global Alliance of SMEs (hereinafter referred to as the Alliance) was established in 1999. Its predecessor was US-China Exchange Association. GASME has regional offices in New Jersey (USA), Shanghai (China), Paris (France), Tokyo (Japan), Phnom Penh (Cambodia), Nairobi (Kenya), and Buenos Aires (Argentina). It has now become one of the most influential non-profit multinational NGOs for SMEs.
The first Global Chairman of the Alliance was Mr. Carlos Magariños, former UNIDO Director-General. Mr. Christian Wulff, former President of Germany, now serves as the incumbent Global Chairman. The Global Advisor is Mr. Jean-Pierre Raffarin, former Prime Minister of France.
GASME actively promotes the idea of sustainable development and contributes to the 17 SDGs of the United Nations. To this end, GASME established a world leader speakers platform of over 50 political and business leaders around the world, including former Presidents of the United States Barack Obama, Bill Clinton, and George W. Bush, former President of Germany Mrs. Merkel, Mr. Schroder and Mr. Wulff, former Presidents of France Mr. Sarkozy and Mr. Hollande and former Prime Minister Mr. Raffarin, former Prime Ministers of the United Kingdom Mr. Cameron and Mr. Brown, former Prime Minister of Japan Yukio Hatoyama, and former Secretary-General of the United Nations Mr. Ban Ki-moon. GASME has hosted several World Leaders Sustainable Development Lectures in many countries, including the U.S., Germany, France, South Korea and Singapore.
GASME has built many international conferences, including Global SMEs Summit, the World Manufacturing Convention, Global Green Development Forum, and World Leaders Sustainable Development Lecture. In 2018, GASME and the People's Government of Anhui Province jointly initiated and hosted the World Manufacturing Convention, which has been successfully held for four years. It is co-hosted by the Ministry of Industry and Information Technology, the Ministry of Science and Technology, the Ministry of Commerce, GASME, the People's Government of Anhui Province and other organizations. In 2019, President Xi Jinping sent a congratulation letter to the event, setting development goals for the convention at a higher level. For four years, there have been 2,455 projects signed at the WMC, with a total investment of about 2.38 trillion Yuan. So far, among the projects signed at the previous three WMCs, a total of 1643 projects have completed business registration in Anhui and 1518 projects have already started construction. The project registration rate is 94% and 87% of projects started construction, attracting a total investment of 66 million Yuan.
To promote the common development of global SMEs, GASME has successively implemented "1000 China-America SMEs Partnership Program", "1000 China-EU SMEs Partnership Program", and "1000 China-Africa SMEs Partnership Program", and held over 70 business matchmaking activities around the world. More than 40,000 SMEs have attended these events with over 2,000 agreements signed.
GASME attaches great importance to public goods development and has released White Paper on Global SMEs Development, White Paper on the Investment Environment of Countries Along the "Belt and Road", World Intelligent Manufacturing Report and China's Manufacturing Development Report, Chinese Manufacturing Development Research Report and so on.
After the COVID-19 pandemic outbreak, GASME joined hands with Manufacturing Cooperation Alliance to donate 500,000 Yuan to Chinese charity to fight against the pandemic. At the same time, GASME cooperated with Huawei, providing SMEs with WeLink remote working platform for free.
In September 2017, GASME Shanghai Representative Office was set up with the approval from the Ministry of Public Security of the People's Republic of China, becoming the first global SME organization to set up an office in China after the launch of the Law of the People's Republic of China on Administration of Activities of Overseas Nongovernmental Organizations in the Mainland of China. In November, 2020, GASME was approved again to set up a Hangzhou Representative Office.