GASME News
Annual Conference of GASME 2021 Held in Shanghai
On April 18th, the Annual Conference of GASME with the theme of "Embark upon a new journey, join hands to build a community of shared future for humankind" was held at Pudong Shangri-La, Shanghai.
Three distinguished guests sent congratulation videos to the event, including Christian Wulff, Global Chairman of GASME and former President of the Federal Republic of Germany, Lin Jianhai, Secretary to the IMF, and Shinichi Isa, Member of House of Representatives and Parliamentary Vice-Minister for Finance Ministry of Finance of Japan.
Many distinguished guests delivered speeches at the annual meeting, including Li Zhaoxing, former Minister of Chinese Ministry of Foreign Affairs, Zhou Hanmin, Vice Chairman of CPPCC Shanghai Committee, Guan Weiyong, Chairman of Shanghai Federation of Industrial Economics, He Weiwen, Vice Chairman of GASME, Publicity Expert of the State Council Information Office and former Economic and Business Counselor of the Chinese Consulate General in San Francisco/New York, Jin Xiangzuo, Vice Chairman of GASME and Vice Chairman of China Association for the Promotion of Development Financing, Frank Cao, Secretary-General of GASME and Chinese Affairs Advisor to former German President Wulff, Sun Xin, Deputy Mayor of Jingdezhen Municipal People's Government, Gu Yi, Deputy District Mayor of Fengxian District of Shanghai, Wang Zhenghua, Co-chair of GASME Sustainable Development Council and President of Spring Airlines, Wang Wen, Executive Dean of the Chongyang Institute for Financial Studies at Renmin University of China and Researcher of the Counsellors' Office of the State Council Financial Research Center, Wang Qing, Deputy Secretary-General of GASME and President of China & Japan Business Investment Promotion Association, and Chen Bo, President of Start in Spring (Shanghai) Cultural Communication Co., Ltd.
There were over 200 guests from governments, businesses and academia as well as artists attended the meeting, including Hu Ying, Deputy Director of the Administrative Office of Overseas NGOs of Shanghai Public Security Bureau, Jia Shumei, former Deputy Director of the Publicity Office of Shanghai Municipal Committee, Zhou Furu, former Chairman of Hefei CPPCC, Ma Bin, Executive Vice Chairman of China Association of Small and Medium Enterprises, Deng Chunyu, Vice Chairman of GASME "Belt and Road" International Cooperation Committee and Chairman of the Organizing Committee of Miss Universe China, Zheng Xiaojun, Director General of the World Federation of Free Trade Zones, Yang Liming, Deputy Secretary-General of International Health and Environment Organization and Executive Director of China Health Big Data Alliance, Zhao Xiaolu, Deputy Secretary-General of Huaxia Culture Promotion Association and President of Shanghai Science and Art Society, Du Hai, Deputy Secretary-General of the China Committee of the Bundesverband mittelständische Wirtschaft, Dong Zailiang, Director of the Commerce and Investment Center of the American Chamber of Commerce in Shanghai, Yang Bin, Vice President of Phoenix (China) Investment Co., Ltd., He Pei, General Manager of China Railway 11 Bureau Shanghai Office, Xia Yifan, Chairman of the Board of Directors of Baijiali Group China, Ye Guobiao, Chairman of China Financial Information Center, Cai Weiyan, former Vice President of Agricultural Development Bank of China Shanghai Pudong Branch, Shi Feng, Sales Director of East China of Dassault Systems (Shanghai) Information Technology Co., Ltd., Wang Gongshi, General Manager of Retech Education Group, Guan Jinsheng, Chairman of Shanghai Jiusong Shanhe Fund Management Co., Ltd., Yao Ming, Chairman of Yao Ming Group, Hong Yuwei, Deputy General Manager of Insigma, Shen Jian, Chairman of Shanghai Dongzhou Enterprise Investment Management Co., Ltd., Wang Xiaohui, a renowned Germany-returned artist, Cao Aiqin, Craftsman of China light industry, and Mei Guowen, President of Anhui Qimen Keemun of World Tea Co., Ltd.
The outbreak of COVID-19 pandemic in 2020 and the resulting worldwide economic recession is the most severe global crisis unseen in a century. It has caused unprecedented impact on SMEs in countries around the world, affecting the employment and income of tens of millions of people. Many developing countries are facing great difficulties. The world economy has witnessed a new gap between the rich and the poor with about 100 million people falling below the poverty line. GASME has been trying our best to help SMEs get through this difficult time. GASME and the Global Manufacturing Cooperation Alliance donated 500,000 Yuan to the Red Cross for fighting the pandemic. We also joined hands with Huawei to launch the Huawei Cloud WeLink remote office platform free of charge to SMEs. At the same time, GASME hosted World Manufacturing Conference 2020 and Huawei China Ecological Tour 2020· Hefei Summit, injecting new momentum into the digital transformation of SMEs!
At present, the pandemic is still raging overseas and the world economy is grim. Although nearly 200 countries have begun to inject vaccines to people with the global pandemic controlled to a certain extent, but the situation is still severe. The world economic development is very unbalanced with great uncertainty. All countries are faced with the huge challenge of how to further fight the pandemic and power economic recovery at the same time.
In order to gain a victory against the pandemic and a stable economic recovery as early as possible and to help realize the United Nations 2030 Sustainable Development Goals, Zhang Yunyan, Chinese Chief Legal Counsel of GASME issued an initiative on behalf of GASME. The initiative pointed out: when the pandemic and the economic situation are severe, countries should build consensus, cooperate with each other and jointly advocate and actively build a global community with a shared future. We should promote global cooperation, call on all countries to support SMEs in finance, technologies, talent recruitment, tax exemption and market expansion, open green channels and help SMEs, especially those in low-income countries, to create more job opportunities. We should also call on governments to strengthen cooperation on vaccines and provide vaccines for developing countries to narrow the "immunity gap". In this way, we hope to realize herd immunity around the world, help global SMEs resume operation and production as soon as possible, and overcome the pandemic entirely. SMEs should also try to find opportunities in the crisis, follow the forth Industrial Revolution and strive for innovation, becoming a new engine for the global economic recovery. In particular, we should advocate free trade and multilateralism, oppose protectionism, promote trade and investment facilitation, and create a favorable and stable business environment for SMEs worldwide, especially in low-income countries.
As an international non-governmental organization with Consultative Status with the United Nations Industrial Development Organization, GASME would play a greater role in global economic governance, especially in the development of public service platforms and products for SMEs.
From 2021 to 2022, the main work plan of GASME is as follows:
1 center: China-EU Manufacturing (China) Cooperation Center;
1 platform: "Zizhi Tongjian", a one-stop service platform for global investment and talent recruitment;
4 conventions: the World Manufacturing Convention, Global Live Streaming Economic Development Conference, Global Hidden Champion Enterprise Conference and World Traditional Chinese Medicine Development Convention.
At the annual meeting, there was also a launching ceremony for preparation of the above-mentioned projects as well as the World Manufacturing Financial Center and the World Traditional Medicine Science and Technology Innovation Base. The implementation of the above projects will provide new momentum for the high-quality development of China's economy, especially for SMEs.
In order to commend outstanding international organizations, business associations, enterprises and individuals, an award ceremony was held at the banquet. The award-winners are as follows: Global Best Service Award for Small and Medium Enterprises: Foundation for the Support of United Nations, China Association of Small and Medium Enterprises, Bundesverband mittelständische Wirtschaft and the American Chamber of Commerce in Shanghai; Global Best Think Tank Award for Small and Medium-sized Enterprises Services: Chongyang Institute for Financial Studies, Renmin University of China; Sustainable Development Award: Spring Airlines, Yaoming Group and Tungray; International Scientific and Technological Innovation Award: Dassault Systems; Sustainable Development Award for Small and Medium-sized Enterprises: Dongzhou Investment Management Co., Ltd; International Fashion Brand Award: Xishan Huafu; Scientific and Technological Innovation Award: IMRobotic; International Artistic Exchange Outstanding Contribution Award: Ms. Wang Xiaohui; Special Award for International Innovation of Chinese Culture: Ms. Cao Aiqin; Best Legal Service Award for Small and Medium Enterprises: Lawyer Zhang Yunyan from Jincheng Tongda & Neal; Best Service Award for Small and Medium Enterprises: Shanghai Automobile Sales Trade Association.
At the annual meeting, GASME signed a strategic cooperation agreement with the Jingdezhen Municipal People's Government. At the banquet, GASME also signed a long-term cooperation agreement with Start in Spring.
This annual meeting is organized by Shanghai Start in Spring Culture Communication Co., Ltd., World Packaging Center Group and Shanghai Param Brand Planning Co., Ltd.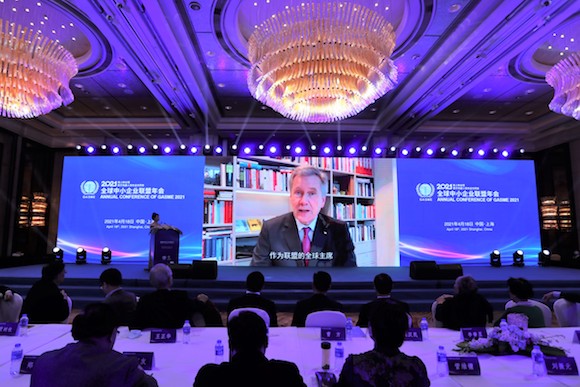 Address via video by Christian Wulff, Global Chairman of GASME and Former President of the Federal Republic of Germany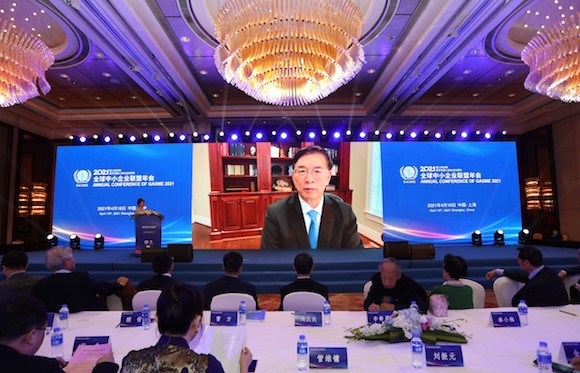 Address via video by Lin Jianhai, Secretary to the IMF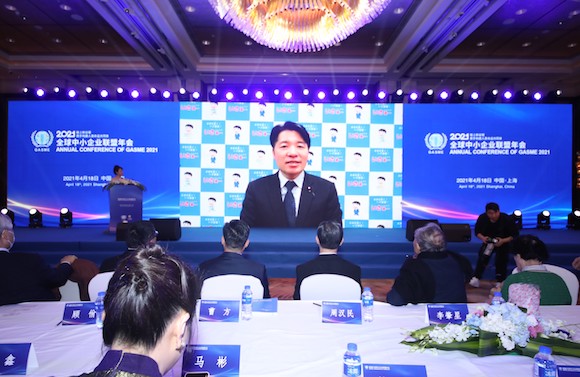 Address via video by Shinichi Isa, Member of House of Representatives and Parliamentary Vice-Minister for Finance Ministry of Finance of Japan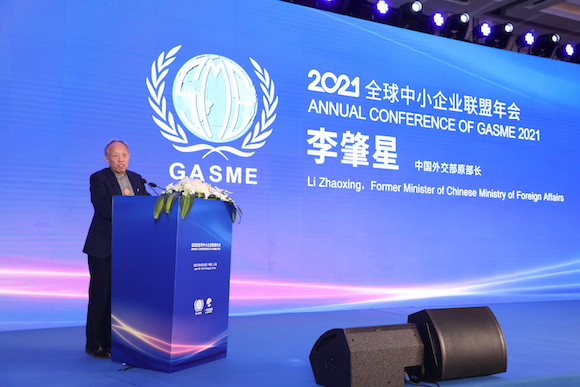 Address by Li Zhaoxing, former Minister of Chinese Ministry of Foreign Affairs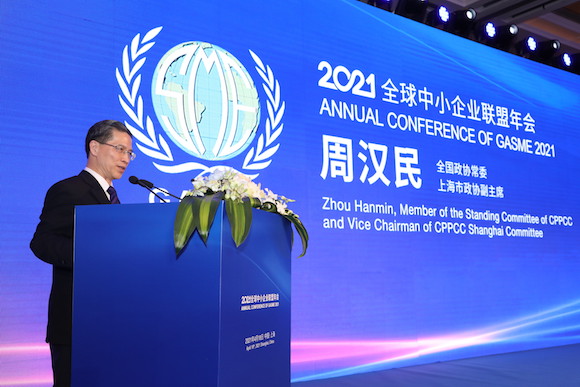 Address by Zhou Hanmin, Vice Chairman of CPPCC Shanghai Committee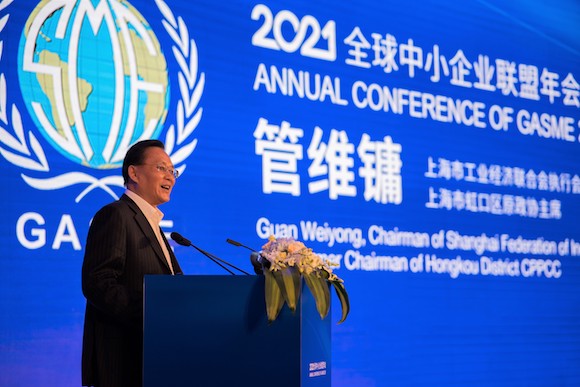 Address by Guan Weiyong, Chairman of Shanghai Federation of Industrial Economics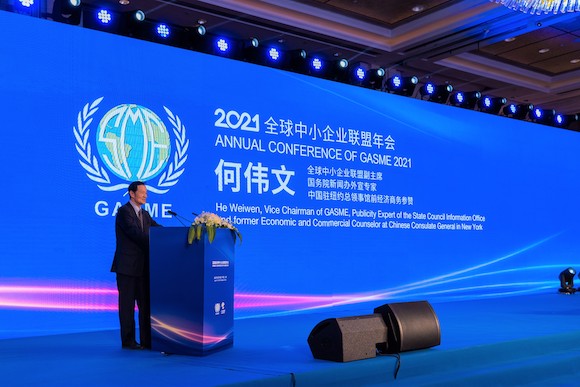 Address by He Weiwen, Vice Chairman of GASME, Publicity Expert of the State Council Information Office and former Economic and Business Counselor of the Chinese Consulate General in San Francisco/New York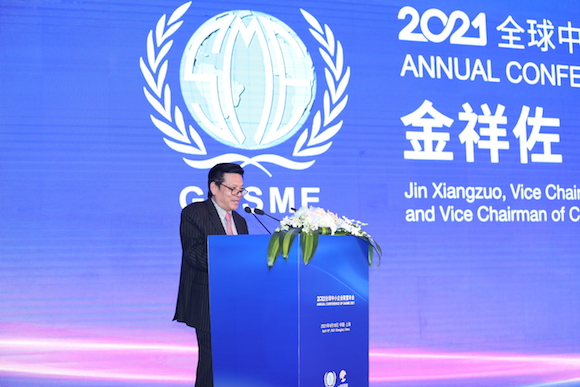 Address by Jin Xiangzuo, Vice Chairman of GASME and Vice Chairman of China Association for the Promotion of Development Financing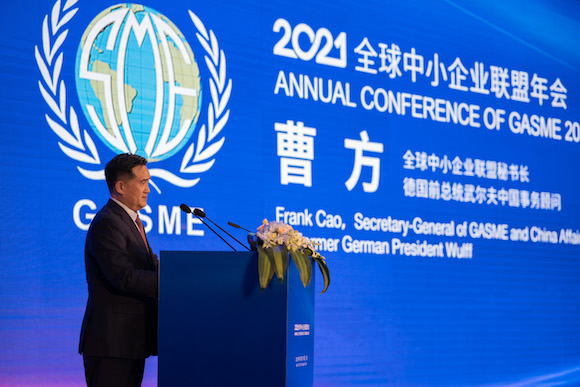 Speech by Frank Cao, Secretary-General of GASME and Chinese Affairs Advisor to former German President Wulff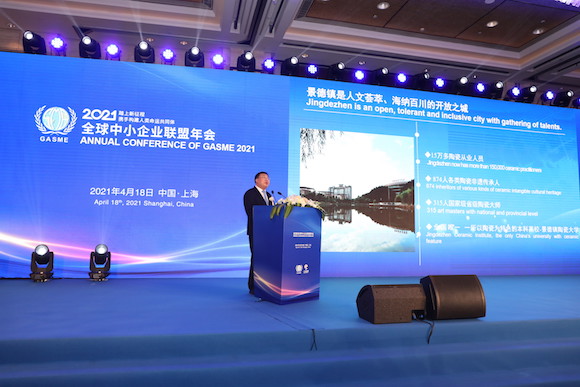 Speech by Sun Xin, Deputy Mayor of Jingdezhen Municipal People's Government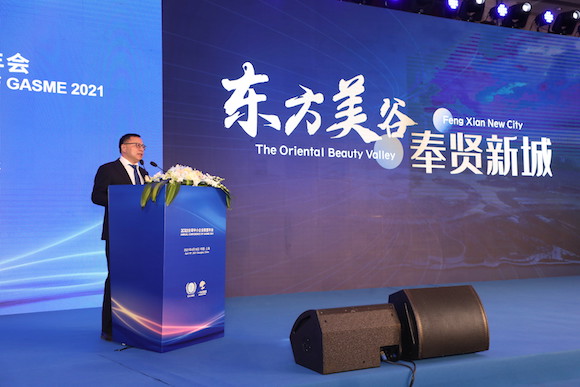 Speech by Gu Yi, Deputy District Mayor of Fengxian District of Shanghai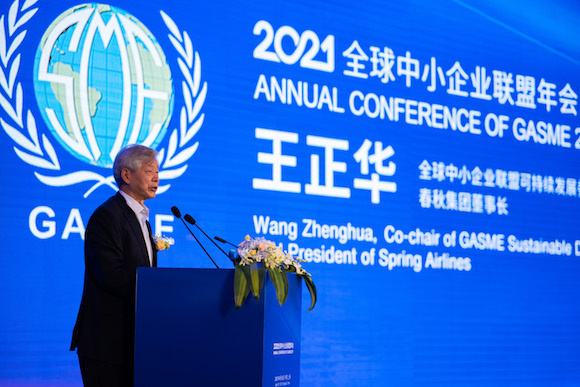 Speech by Wang Zhenghua, Co-chair of GASME Sustainable Development Council and President of Spring Airlines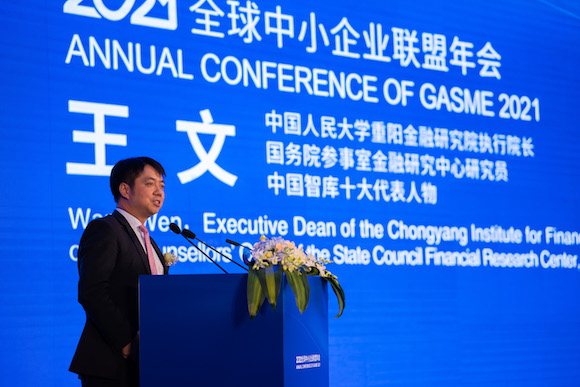 Speech by Wang Wen, Executive Dean of the Chongyang Institute for Financial Studies at Renmin University of China and Researcher of the Counsellors' Office of the State Council Financial Research Center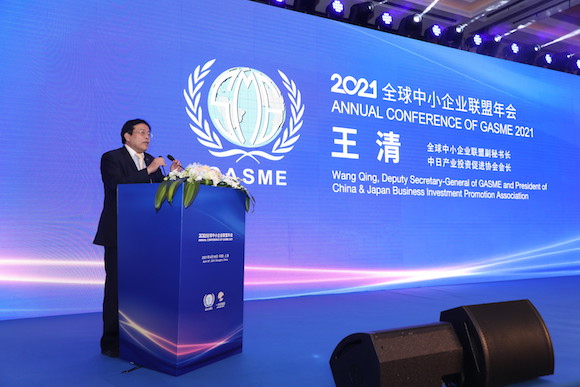 Speech by Wang Qing, Deputy Secretary-General of GASME and President of China & Japan Business Investment Promotion Association, at the Banquet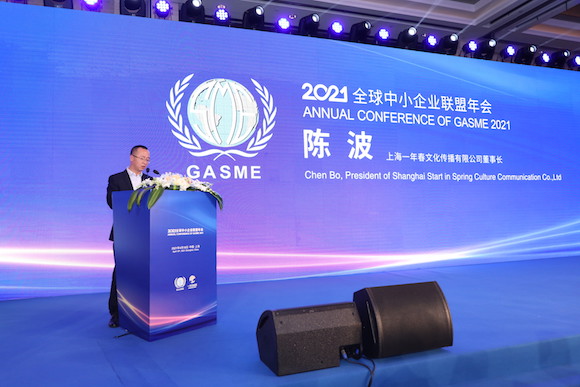 Speech by Chen Bo, President of Start in Spring (Shanghai) Cultural Communication Co., Ltd., at the Banquet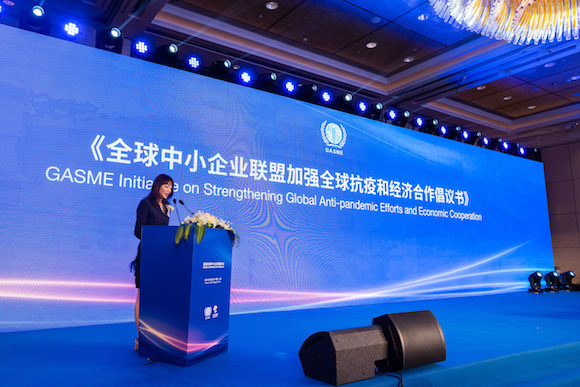 Zhang Yunyan, Chinese Chief Legal Counsel of GASME, issued GASME Initiative on Strengthening Global Anti-pandemic Efforts and Economic Cooperation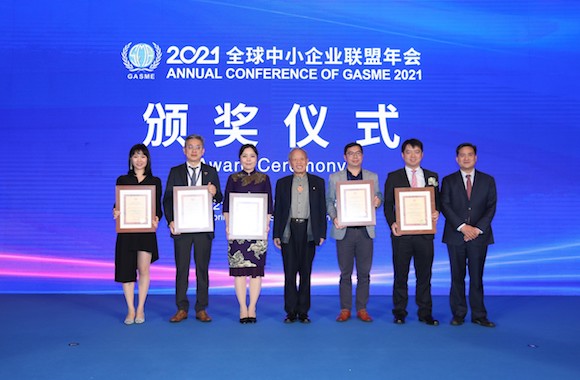 Launching Ceremony of preparation for five GASME projects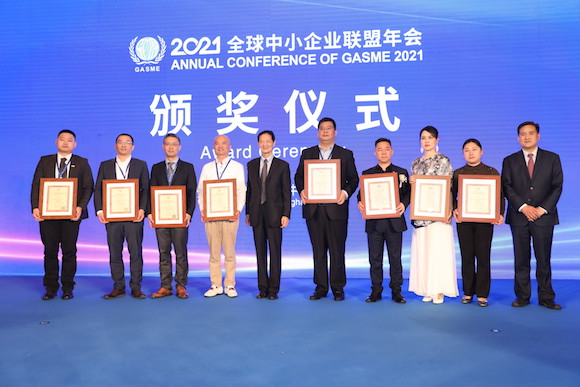 Launching Ceremony of preparation for the World Manufacturing Financial Center and the World Traditional Medicine Science and Technology Innovation Base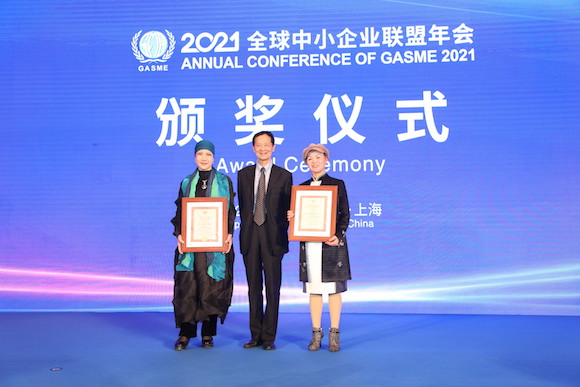 Award Ceremony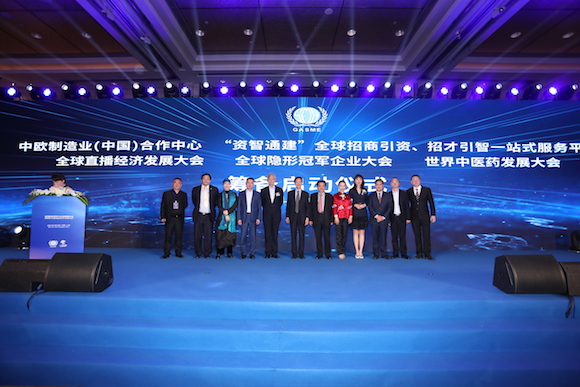 Award Ceremony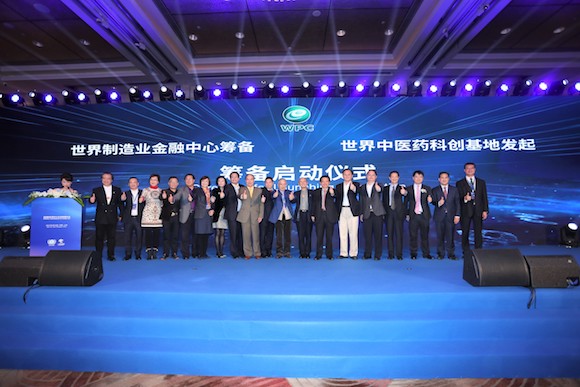 Award Ceremony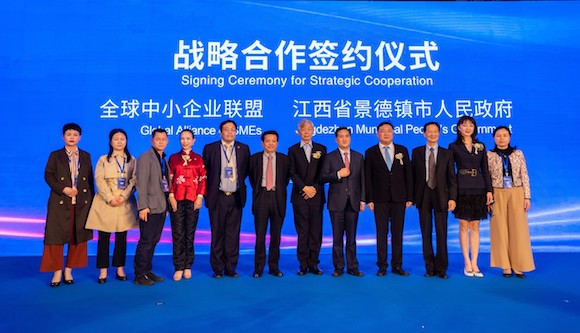 GASME and Jingdezhen Municipal People's Government signed strategic cooperation agreement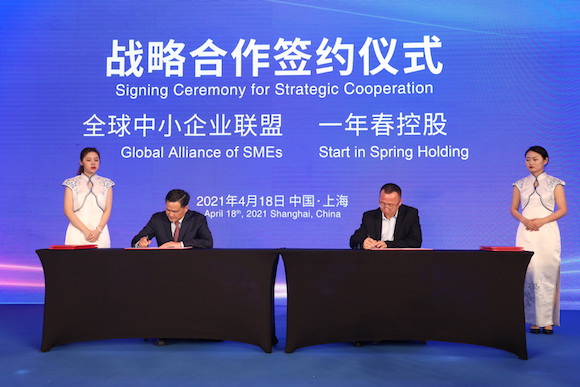 GASME and Start in Spring signed long-term cooperation agreement