GASME News
World Manufacturing Convention 2019 Held in Hefei
The World Manufacturing Convention 2019 was held in Heifei, Anhui Province, China, from September 20th to 23rd, 2019.
This event was hosted by Global Alliance of SMEs, Ministry of Industry and Information Technology, Ministry of Science and Technology, Ministry of Commerce, State-owned Assets Supervision and Administration Commission of the State Council, Chinese Academy of Engineering, All-China Federation of Industry and Commerce, Chinese People's Association for Friendship with Foreign Countries, China Association of Small and Medium Enterprises, United Nations Industrial Development Organization, and People's Government of Anhui Province. The convention was themed as "Innovation, Entrepreneurship and Creativity: Embracing the New Era of Manufacturing", highlighting "State-level, Global, and Manufacturing". During the convention, there were a series of panel discussions, industrial meetings, high-level summits, projects and exhibitions with more than 4500 guests from home and abroad.
Foreign guests attending this event include: Christian Wulff, Global Chairman of GASME and former President of the Federal Republic of Germany, François Hollande, former President of France, Yukio Hatoyama, Former Prime Minister of Japan, Chairman of East Asian Community Institute, Heinz Fischer, Former President of Austria, Adil Abdul-Mahdi, Prime Minister of Iraq, Thamer al-Ghadhban and Fuad Hussein, Deputy Prime Ministers of Iraq, Nadhim Zahawi, Parliamentary Under Secretary of State at the Department for Business, Energy and Industrial Strategy, Fatou Haidara, Managing Director of the United Nations Industrial Development Organization, Ali Daoud Abdou, Secretary-General of Ministry of Commerce of the Republic of Djibouti and Luca de Meo, President of Seat.
Chinese guests attending this event include: Wang Yong, State Councilor,Meng Yang, Deputy Secretary-general of the State Council, Li Jinbin, Party Secretary of Anhui Province, Li Guoying, Governor of the Anhui Province, Xin Changxing, Deputy Party Secretary of Anhui Province, Wang Zhijun, Deputy Minister of Ministry of Industry and Information Technology, Wu Qing, member of the Standing Committee of Shanghai Municipal People's Congress and Vice Mayor of Shanghai, Ma Qiulin, Vice Governor of Jiangsu Province, Li Zibin, President of China Association of Small and Medium Enterprises, He Weiwen, Vice Chairman of GASME, Yang Yuanqing, Chairman and CEO of Lenovo, senior executive of the Continental Group, Wang Wenyin, Chairman of the Board of Amer International Group, Fang Hongbo, President of Midea Group, Li Yang, member of the Chinese Academy of Social Sciences and Chairman of National Institute for Finance & Development.
At the opening ceremony, State Councilor Wang Yong read the congratulations message from President Xi. In the message, President Xi pointed out that, currently, global manufacturing industries are undergoing deep reforms. All countries should strengthen cooperation, learn from each other, seize the opportunities brought by the new round of technological and industrial reforms, improve manufacturers' technology innovation capabilities, and promote reforms in quality, efficiency and motivation in manufacturing industries. President Xi emphasized that China attached great importance to the development of the manufacturing industry and would hold on to an innovation-driven developing strategy, making quality development of manufacturing industry a crucial part of building a modern economic system. China would like to, along with all the parties, promote technology development of manufacturing industries, and contribute to achieve win-win outcomes and the quality development of global manufacturing industries.
Then, Wang Yong delivered a keynote speech. He said President Xi's words showed Chinese government's commitment to promote sustainable and healthy development of global manufacturing industries and its wishes to strengthen cooperation. Also, Xi's words provided guidance for high-quality development of manufacturing industries. Wang Yong stressed that globalization of the world economy was irreversible, and so was the globalization of manufacturing industries. All countries should stand against trade protectionism and technological hegemony, and meanwhile promote high-level of freedom and convenience of trade and investment to create a better environment for manufacturers. This convention provided a huge platform for global manufacturers to cooperate and would definitely help solve problems of the industries, opening a new era for world manufacturing industries. China would also like to take this chance to strengthen cooperation with global manufacturers and make more efforts to encourage entrepreneurship, creations and innovations, building a bright future for the global economy.
Li Jinbin, Party Secretary of Anhui Province said that President Xi valued World Manufacturing Convention 2019 very much and even sent a congratulations message himself, which set a "new direction" like a "navigation device" for this convention as well as the high-quality development of manufacturing industries. At present, the world manufacturing industries are undergoing tremendous changes. He said that Anhui Province would follow Xi Jinping Thought on Socialism with Chinese Characteristics for a New Era, hold new development ideas, and regard quality development of manufacturing industry as a significant part of building a modern economic system, making Anhui Province stronger in manufacturing. He sincerely hoped that all the parties could cooperate with and learn from each other to make World Manufacturing Convention even better, opening new chapter for the world manufacturing industries and creating a more prosperous future.
Prime Minister Abdul Mahdi expressed in his address that he was very glad to participate in World Manufacturing Convention 2019, for this convention helped bond the people of Tigris-Euphrates river system and Chinese civilization. China and Iraq have productive partnership and share the common wishes of further cooperation and progress. Based on the common interests of the two countries, Iraq would work closely with China to implement the Belt and Road Initiative in areas of energy, telecommunication, road, dam, hydraulic engineering, agriculture, industries, infrastructure and so on, promoting the relationship of the two countries to a higher level.
President Hollande pointed out that the world manufacturing industry is facing three major reforms: Artificial Intelligence & digitalization, ecology and energy transformation, trade protectionism. To properly manage these three challenges is the premise for the manufacturing industry to achieve sustainable development. China's cooperation with the world, with Europe in particular, would absolutely help cope with common crises and achieve win-win outcomes.
Yukio Hatoyama, former Japanese Prime Minister, was quite optimistic on the cooperation between China and Japan in manufacturing. He said, "Japan is good at parts and materials, while China's digitalization and IoT are developing fast. The two countries can cooperate and improve technology developing capabilities and automation in the manufacturing industry. To solve the common problems of the manufacturing industries, all countries should work closely together."
President Fischer expressed his pleasure to come to China closely before the 70th anniversary of the founding of the People's Republic of China. China is Austria's biggest trade partner, so according to him, Austria would work closely with China under the framework of the New Silk Road and China-CEE "17+1" to contribute to the world's sustainable development.
Zahawi pointed out that the UK was honored to be the first guest country of honor of the World Manufacturing Convention. China and the UK both have been dedicated to developing low-carbon economy, Artificial Intelligence and clean and intelligent transportation system. Therefore, there are huge potential in manufacturing cooperation. He sincerely hoped that the two countries could learn from each other and work hand in hand, promoting prosperity of the whole world.
At the opening ceremony, Chairman Wulff, on behalf of the convention committee read the Hefei Initiative: to transform and upgrade high-end manufacturing; to drive through innovation and to manufacture with intelligence; to make ecology and green manufacturing priority; to integrate manufacturing and service industries; to open up and to collaborate. The Hefei Initiative called on all parties to promote high-quality development and catch the wave of a brand-new era. The Hefei Initiative was jointly released by Wang Yong, Adil Abdul-Mahdi, Li Jinbin, Li Guoying, Zahawi, Christian Wulff, Francois Hollande, Heinz Fischer and Yukio Hatoyama.
It was the first time that the convention had guest countries of honor—the UK and several Chinese provinces (Shanghai, Zhejiang, Jiangsu)—in order to let the convention be more open. The total area of the convention reached 61,000 square meters covering ten exhibition areas, including the preface, international manufacturing, intelligent manufacturing, high-end manufacturing, green manufacturing, service-oriented manufacturing, digital economy, autonomous driving experience area. During the convention, there were 638 projects signed on site with a total investment of ¥735.1 billion.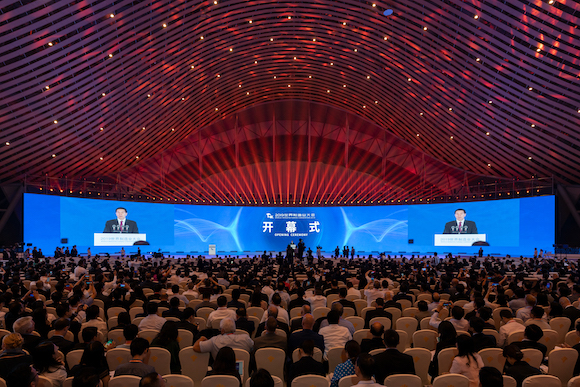 Opening Ceremony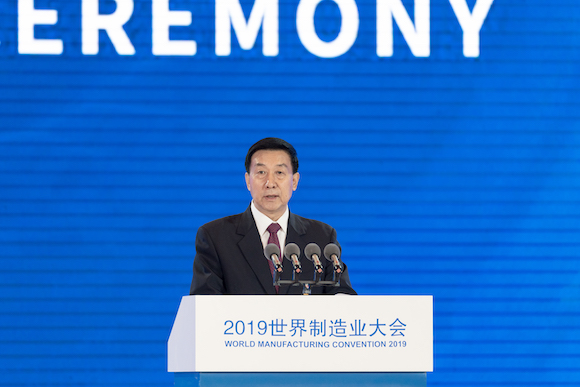 State Councilor Wang Yong read the congratulations message from President Xi Jinping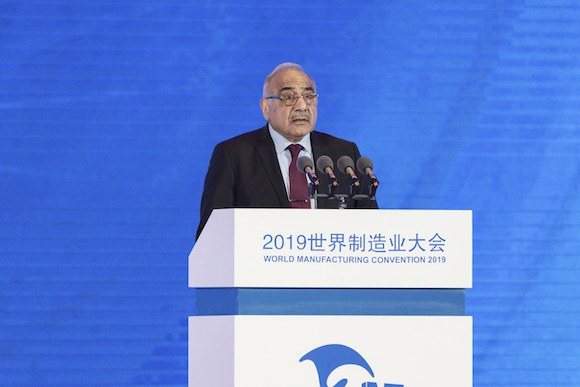 Address by Adil Abdul-Mahdi, Prime Minister of Iraq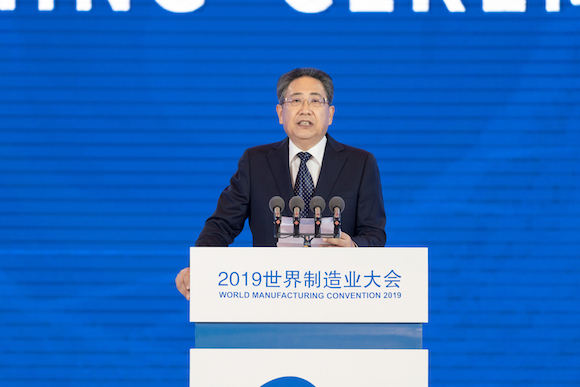 Address by Li Jinbin, Party Secretary of Anhui Province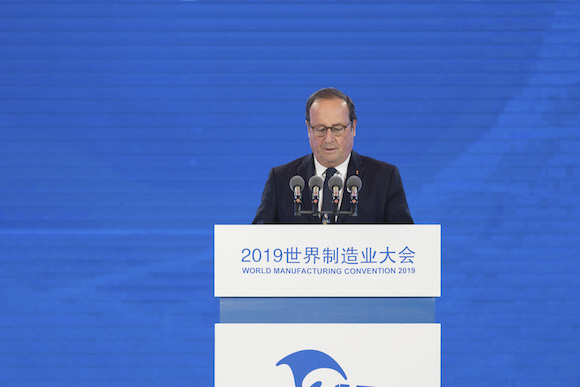 Address by Francois Hollande, former President of France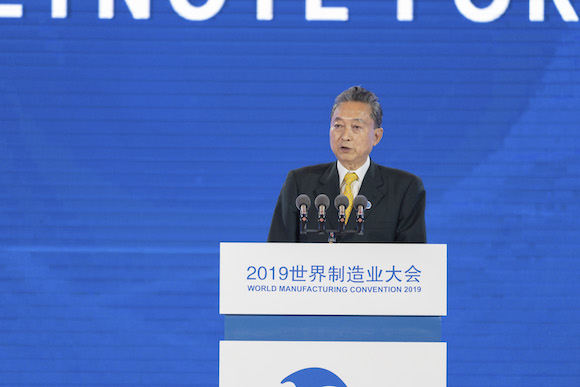 Address by Yukio Hatoyama, former Prime Minister of Japan and President of the East Asian Community Institute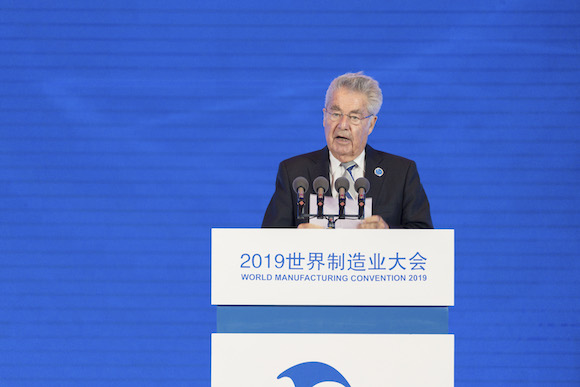 Address by Heinz Fischer, former President of Austria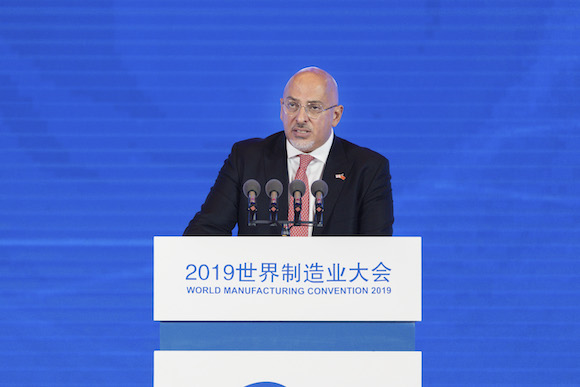 Address by Nadhim Zahawi, Parliamentary Under Secretary of State at the Department for Business, Energy and Industrial Strategy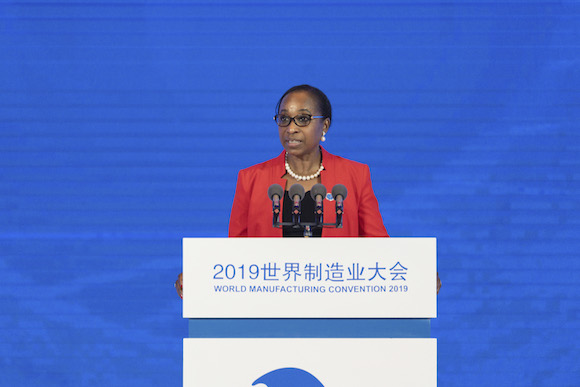 Address by Fatou Haidara, Managing Director of the United Nations Industrial Development Organization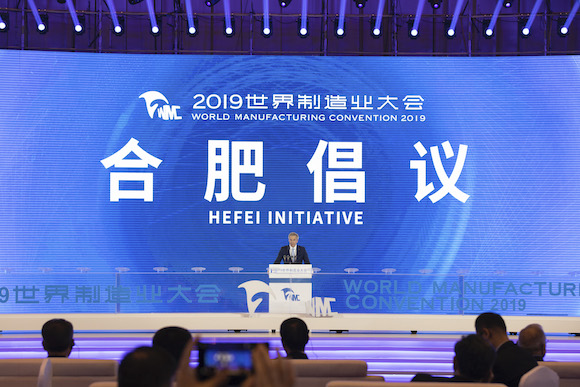 Heifei Initiative read by Christian Wulff, Former President of the Federal Republic of Germany and Global Chairman of GASME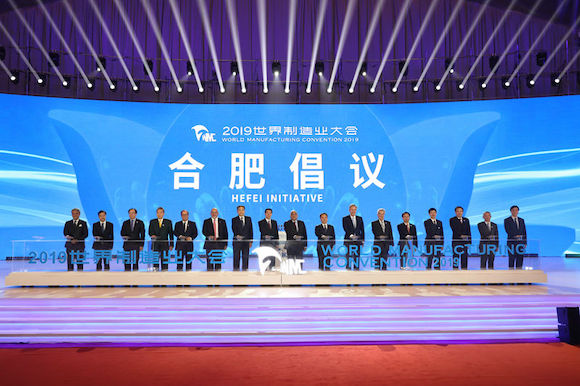 Hefei Initiative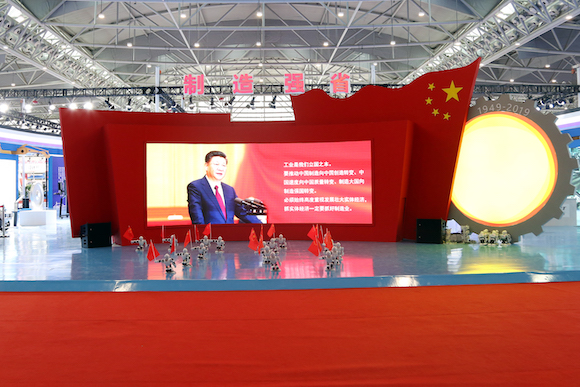 Exhibition display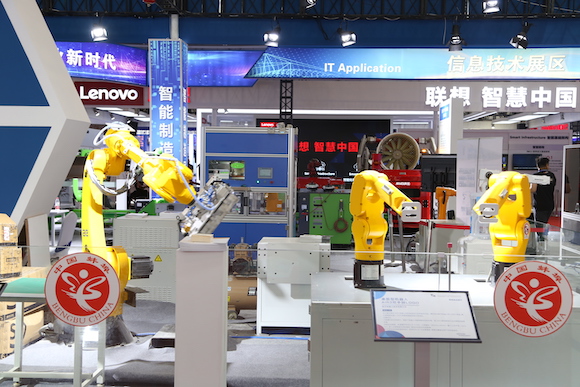 Exhibition display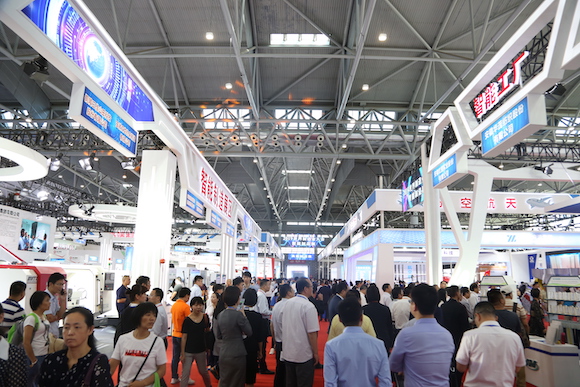 Exhibition display