GASME News
Forum on the Sustainable Development of the Advanced Manufacturing Industry and Global Alliance of SMEs Business Banquet held in Hefei
On September 20th, 2019, the "Forum on the Sustainable Development of the Advanced Manufacturing Industry and Global Alliance of SMEs Business Banquet" was held successfully by GASME and supported by Hefei National High-tech Industry Development Zone at the Chinese Calligraphy Building in Hefei, Anhui Province, China.
This event focused on topics of global manufacturing industries, exploring how to promote the sustainable development of the manufacturing industries through innovation and integration. Guests attending the event include: Christian Wulff, Global Chairman of GASME and former President of the Federal Republic of Germany, François Hollande, former President of France, Rt. Hon Lord Michael Bates, member of the House of Lords, member of the Privy Council, and former Minister of State in Home Office and the Department for International Development of the UK, Ali Daoud Abdou, Secretary-General of Ministry of Commerce of the Republic of Djibouti, Kurt Hubert Bodewig, President of the German Traffic Guard and Former Minister of Transport, Construction and Housing of the Federal Republic of Germany, Andreas Yahn, Vice President of BVMW (Federal Association of Medium-sized Economy) Germany, He Weiwen, Vice Chairman of GASME and Former Economic and Commercial Counselor at the Consulate General of the P.R. China in New York, Lady Xuelin Li Bates, Senior Vice Chairman and Secretary-General of UK Chinese Business Association, Frank Cao, Secretary General of the Global Alliance of SMEs (GASME), John Westover, Vice-Chairman and Secretary-General of World Federation of Free Trade Zones, Tsutomu Takamura, Chairman of Promotion Association for Japan China Korea International Trade and special representative for Yukio Hatoyama, Ameya Prabhu, Co-Chair of the Indian Chamber of Commerce (ICC) Western Regional Council, Kyu bok Lee, Vice Dean of Korea Electronics Technology Institute, Zhao Bingrang, member of the Standing Committee of the Hefei Municipal People's Congress and Deputy Mayor of Hefei, Zhu Ce, Deputy Mayor of Hefei, Zhou Furu, Former Chairman of Hefei Committee of the Chinese People's Political Consultative Conference, Liu Dengyin, Deputy Director of Hefei National High-tech Industry Development Zone, Cai Jingmin, Secretary of Anhui University Committee, Wang Qidong, Secretary and President of Hefei University, Gong Han, Director of the Investment Promotion Agency of the Bureau of Commerce of Anhui Province, Jin Xiangzuo, President of World Packaging Center Group and Vice Chairman of GASME, Hans-Peter Joachim Lentes, Head of Fraunhofer IAO (Institute for Industrial Engineering), Dr. Nasser Jazdi Motlagh, Vice Director of Institute of Industrial Automation and Software Engineering in University of Stuttgart, Sombat Phaiboonship, President of International-Thai Business Association, David Ong, Vice Chairman of SingCham, Yan Shian, Vice President and Executive Secretary of Thai-Asean+6 Business Promotion Association, Kiyoshi Oh, Chairman of Japan & China Enterprise Investment Promotion Association, Takahiro Takazawa, Chairman Emeritus of Japan & China Enterprise Investment Promotion Association (JCEIPA), Mr. Akira Shinozaki, Consultant of Japan & China Enterprise Investment Promotion Association (JCEIPA) and Chief Representative at GASME Tokyo Office, Wang Chunsheng, Chairman of Shanghe International Holdings, Wang Letian, Co-president of China Orient Asset Management (International) Holding Limited, Ren Rupeng, CEO of China Orient Summit Capital.
Chairman Wulff said in his address that we should be responsible for the future. To promote sustainable economic growth, we had to set higher requirements for industries. Though we lived on different continents and belonged to different nations, we could still come up with a common plan despite these differences in culture and language to boost economic growth more smartly.
Lord Bates shared stories of three people: the father of economics—Adam Smith, former Chinese leader—Deng Xiaoping, and Lord Bates himself. Through these three stories, he told entrepreneurs that economic benefits and environment protection could be complementary to each other.
Secretary-General Abdou highlighted Djibouti's huge contribution on promoting African economic development and communication. He said that, in the past 40 years, China and Djibouti have pushed their diplomatic relations to a higher phase of strategic mutual trust. He said that the two countries share long and profound friendship, and hoped that both could continue to support each other in the future.
President Andreas Jahn pointed out, "Sino-Germany and Sino-Europe relationship have reached a whole new level. I hope German businesses can learn from China to be more optimistic. If you cry, then you wouldn't be able to see the sun or stars. Only when you hold your tears, can you see the stars and the light. This is only a metaphor. We hope to reach a level where we could catch the fast-developing train of China and together create a world order of multilateral cooperation." As a research institute directly subordinated to the Korean Ministry of Trade, Industry and Energy, the Korea Electronics Technology Institute is dedicated to Korea's technological reforms of electronics and telecommunication industries. President Kyu Bok Lee of the institute said, "We have many exchange programs with excellent Chinese research institutes and universities, which provides a platform for cooperation and communication for businesses in both Korea and China. In the future, Korea Electronics Technology Institute will continue to cooperate with China to realize mutual benefits and development."
At the forum, there was a thematic dialogue moderated by Chairman He Weiwen and participated by Secretary-General John Westover, Chair Ameya Prabhu and President Sombat Phaiboonsirilap. They had an insightful discussion on the topic "Transformation of the business association to promote the upgrading of the manufacturing enterprises".
Then, Mr. Kohei Yasuda, Chairman of Campus Create Co., Ltd, Mr. Peter Graham, Managing Director and Chief Restructuring Officer of American Industrial Acquisition Corporation, and Mr. Tao Wu, President of the China Orient Summit Capital, all came to stage as distinguished representatives and shared their experiences.
At the World Leaders Banquet, Chairman Wulff, President Hollande, Deputy Mayor Zhao Bingrang, Secretary General Frank Cao and Chairman Wang Chunsheng delivered their speeches.
Secretary Frank Cao said in his address, "It has been 20 years since the predecessor of Global Alliance of SMEs— US-China Exchange Association was founded in the early 1999. With our efforts, we have emerged from a bilateral exchange institute between China and the US to an influential global organization for SMEs recognized by the international communities. In the next five years, GASME will achieve three big goals, one of which is to build a permanent site for World Manufacturing Convention. Based on past experience, only with a permanent site can an international convention become more influential, then the name of a place becomes the symbol of a convention. Therefore, to make the World Manufacturing Convention 'the Davos of global manufacturing industries', we have to choose a permanent site." Secretary General Cao believes that Hefei is the perfect location because of its five advantages. First, policy advantages. Anhui Province was the first in China to come up with a "Boosting Manufacturing-led Provincial Development" strategy with favorable policies towards manufacturers. Second, innovation advantages. Dozens of national core technologies were invented in Hefei such as the first domestic quantum computer control system with completely independent intellectual property, and the only machine whose speech synthesis system could be as good as human beings. Third, geographic advantages. Hefei is a comprehensive transportation hub and a major junction city of the "Belt and Road Initiative" and the Yangtze River Economic Belt. Fourth, talent advantages. Hefei has more than 60 colleges and universities, including University of Science and Technology of China, Hefei University of Technology and Anhui University. It is listed as one of the three national science centers by the National Development and Reform Commission and the Ministry of Science and Technology. Fifth, agglomeration effects of multinational corporations. Now, more than 50 foreign Fortune 500 companies have offices in Hefei. In the foreseeable future, Hefei, as the permanent site of the World Manufacturing Convention, will become an important city for global manufacturers. The World Manufacturing Convention will also be the golden business card for Hefei on the international stage.
Then, Chairman He Weiwen introduced President Hollande's new book, the Lessons of Power. President Hollande came to stage and attended the book signing ceremony. He gave his books to nine guests including Secretary General Frank Cao, the wife of Lord Michael Bates Mrs. Bates, Secretary Cai Jingmin, Secretary Wang Qidong and President Jin Xiangzuo.
At the Banquet, GASME signed "Cooperation Promotion Center of German Industrial 4.0 (Hefei)" with Fraunhofer IAO and Hefei University, "Industrial Park of German Hidden Champions Enterprises in Hefei" with BVMW (Federal Association of Medium-sized Economy), Germany, "Incubation Park for the Japanese Enterprises of Emerging Industries in Hefei" with Japan & China Enterprise Investment Promotion Association, strategic cooperation agreement with SingCham, and "Pacific Project in Hefei" with Shanghe International Holdings and China Orient Summit Capital.
The signing ceremony for the Intelligent Manufacturing Projects of the High-tech District of Hefei 2019 was also held at the banquet. There were 36 projects signed with a total investment of ¥12.3 billion, showing its features of advanced technologies, high industrial level, distinct leading effect and prosperous future. Those projects included KV Group headquarters project worth ¥2 billion, infrared thermal imaging project by Raytron Technology which was among the first batch of companies listed on the Sci-tech innovation board, and many other great high-tech projects. These projects will inject new energy into Hefei and the development of intelligent manufacturing industry in High-tech District.
At last, two launching ceremonies were held, the "Global SEMs Sustainable Development Project" and the "Sustainable Development Lecture by President Obama".

Address by Chairman Wulff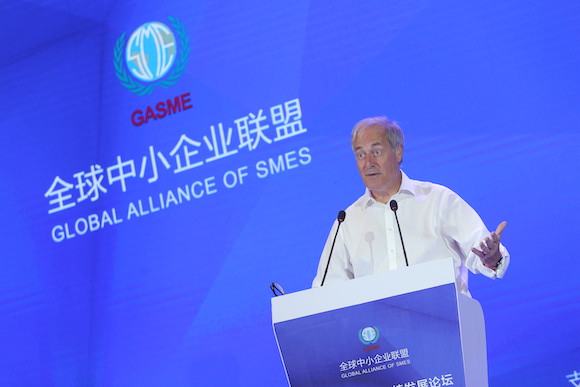 Address by Rt. Hon Lord Michael Bates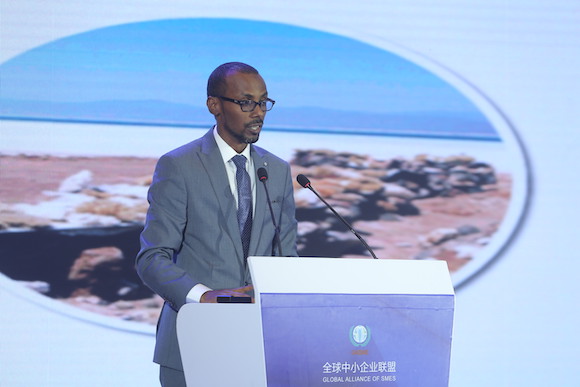 Address by Secretary-General Abdou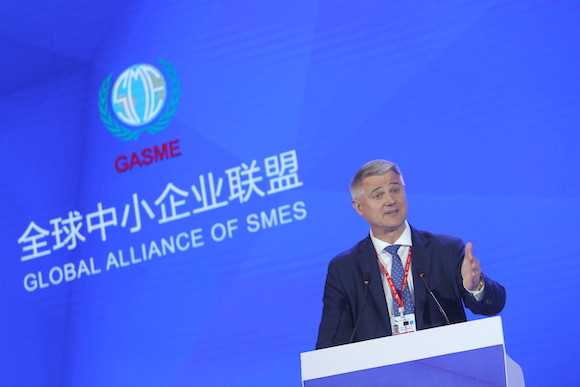 Address by President Andreas Jahn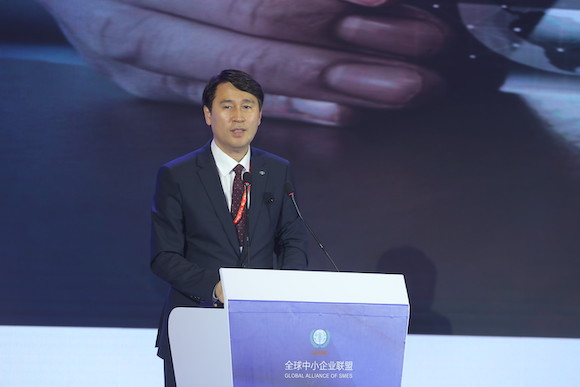 Address by President Kyu bok Lee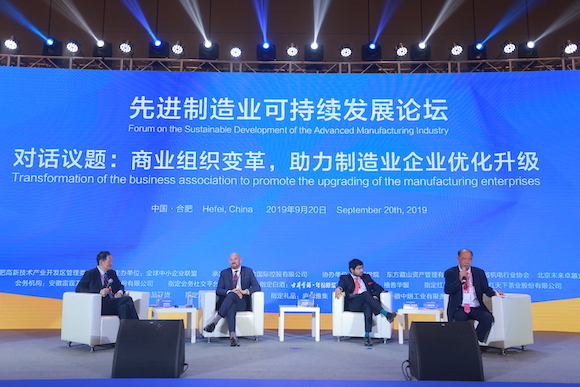 Thematic dialogue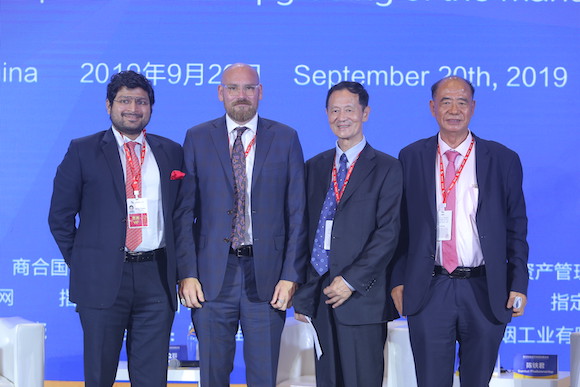 Thematic dialogue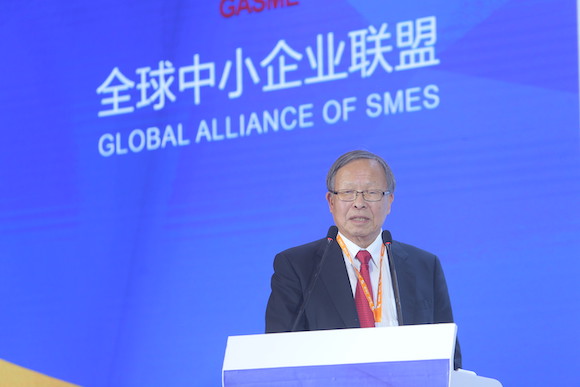 Address by Chairman Kokei Yasuda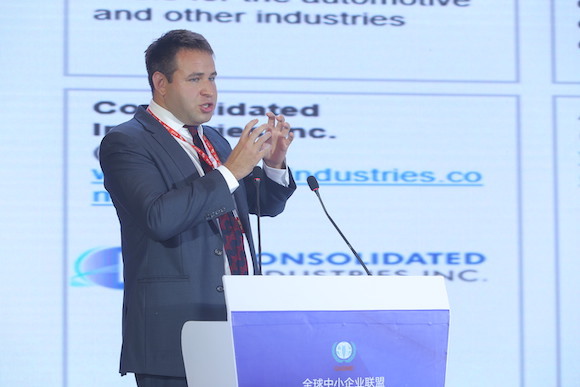 Address by Peter Graham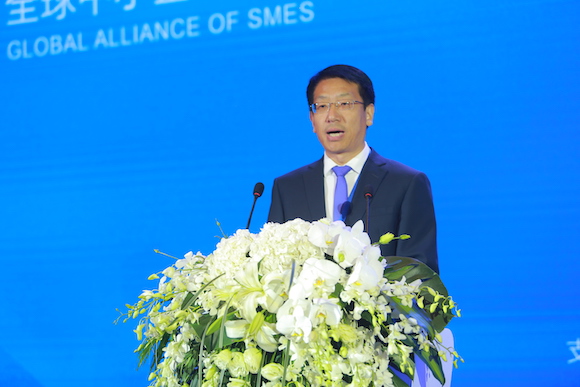 Address by Mayor Zhao Bingrang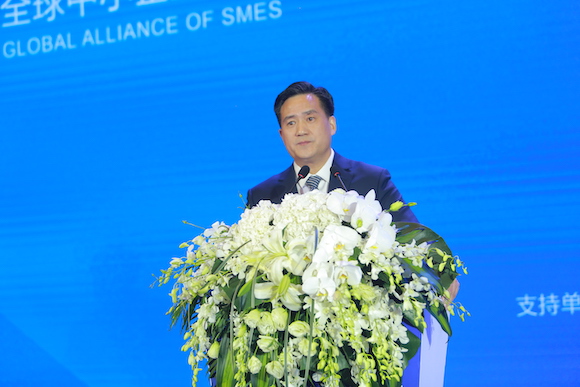 Speech by Secretary General Frank Cao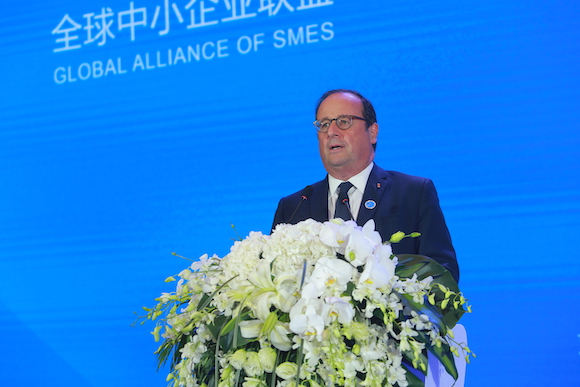 Address by President Hollande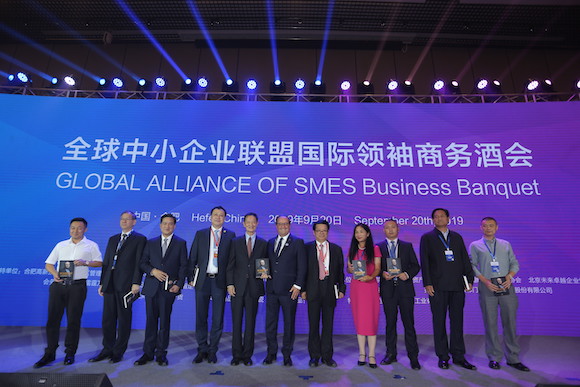 Book giving by President Hollande, the Lessons of Power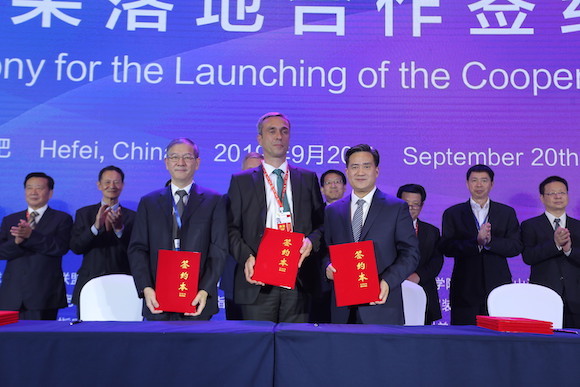 Industry 4.0 (Hefei) Cooperation Promotion signing ceremony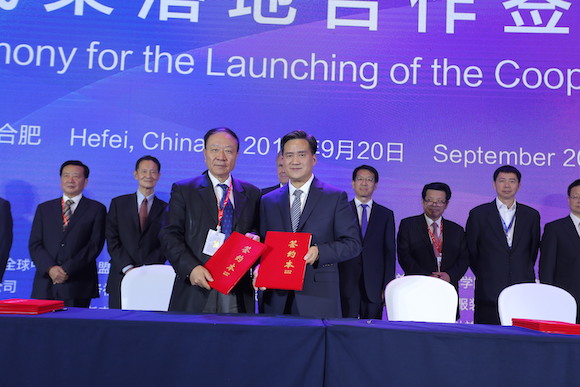 Hefei EU Industrial Park of the world "Hidden Champions" in Hefei signing ceremony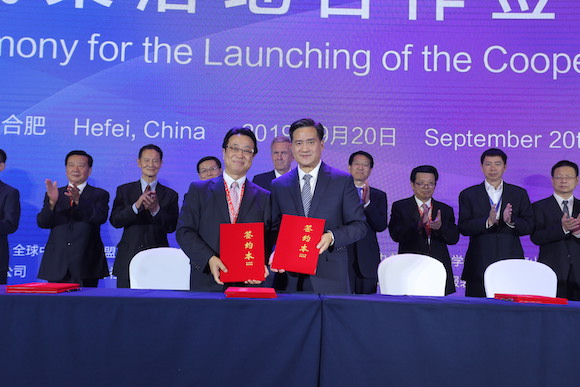 Incubation Park for the Japanese Emerging Industries (Hefei) signing ceremony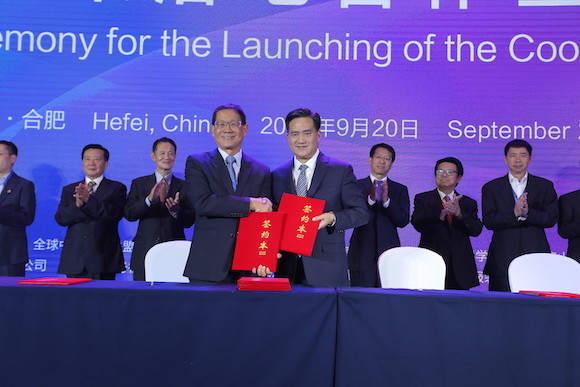 Signing between the Singapore Chamber of Commerce and Industry in China (SingCham) and GASME

Signing of the Pacific Program in Hefei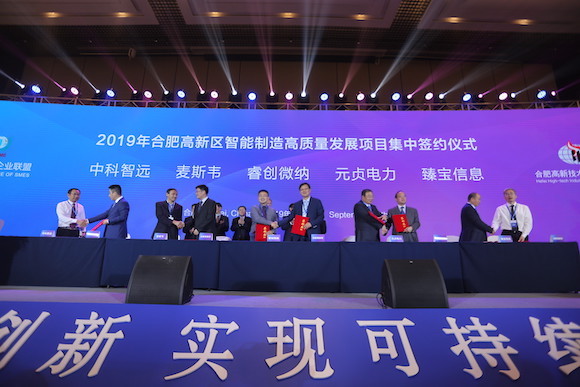 Intelligent Manufacturing Projects of the High-tech District of Hefei 2019 signing ceremony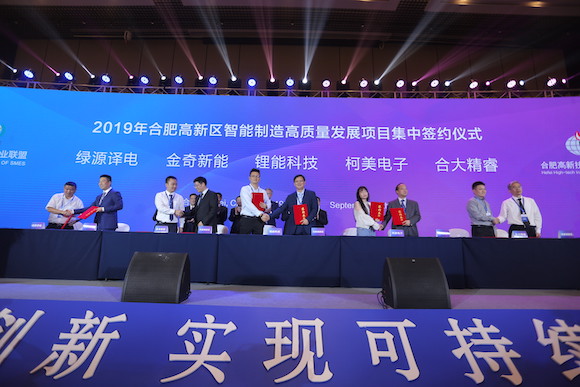 Intelligent Manufacturing Projects of the High-tech District of Hefei 2019 signing ceremony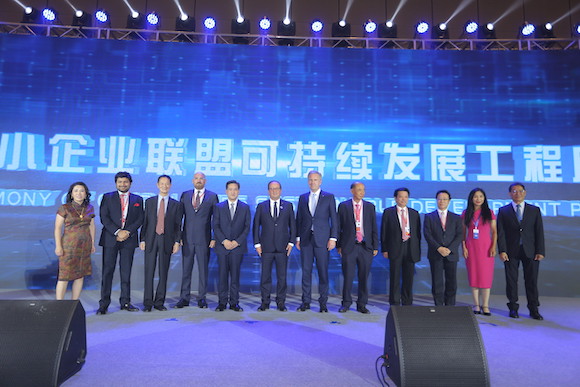 Global SMEs Sustainable Development Project launching ceremony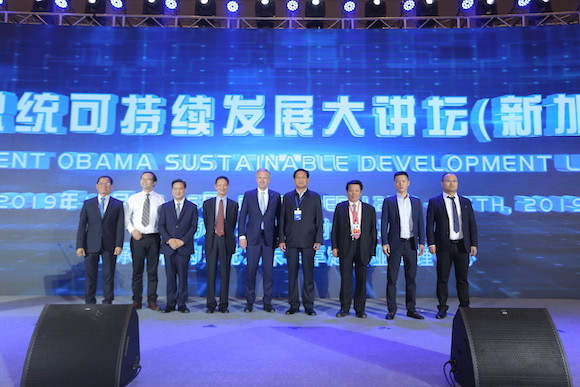 Sustainable Development Lecture by President Obama launching ceremony