GASME News
Mr. Carlos Magariños attended Hangzhou Global Entrepreneur Forum
On October 28th and October 29th, Mr. Carlos Magariños, Chairman Emeritus of the Global Alliance of SMES and former Director General of UNIDO was invited to Hangzhou Global Entrepreneur Forum as keynote speaker. The forum was supported by the Global Alliance of SMEs and organized by Zhejiang Association of Small and Medium Enterprises, China Association of Poverty Alleviation & Development and other organizations.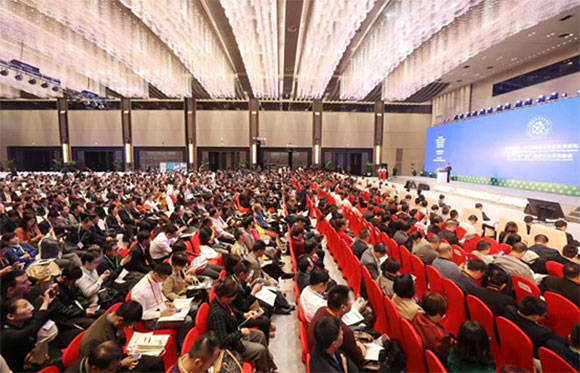 2017 Hangzhou Global Entrepreneur Forum
The theme of the forum is 'Committed to fulfill the duty, dedicated to take the responsibility, devoted to create a world'. Mr. Carlos Magariños, Chen Xinhua, Deputy Mayor of Hangzhou Government, Yuan Wenxian, professor of National Defence University of People's Liberation Army, Fan Gang, renowned economist and other guests were also invited to deliver keynote speech. The forum has discussed financing and investment innovation within SMEs, One Belt One Road Economic& Cultural Cooperation and cooperation opportunities for enterprises.
Mr. Carlos Magariños pointed out that now we are facing epochal changes with continuing development of emerging economies. He believes that the proportion of the society taken by middle class will grow continuingly and consequently Asia will become the new consumption center. In addition, the world will benefit from the development of small-and-medium-sized cities and high-skilled talents will be more needed accordingly. Therefore, it is important for China to build economic and cultural cooperation with other countries while One Belt One Road policy is being actively implemented. SMEs, too, are in need of innovation and adjustment of their strategies.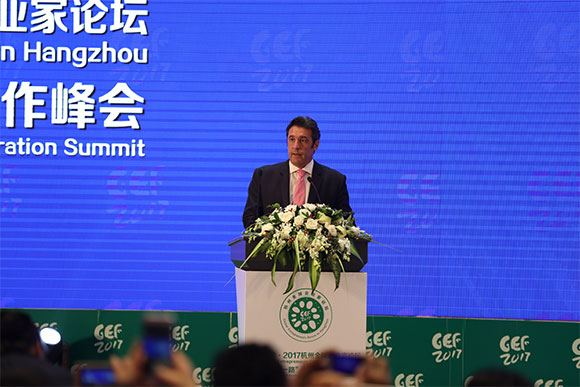 Mr. Magariños delivers keynote speech at 2017 Hangzhou Global Entrepreneur Forum
Mr. Carlos Magariños also participated in 2017 Hangzhou Industrial Smart Manufacturing Forum which was hosted by Hangzhou Government, Shangcheng District and Hangzhou Federation of Industry and Commerce on October 27th. Mr. Carlos Magariños believes, China has already taken the lead in efficiency-based innovation on the way to become a leading manufacturing country. As long as China stays ahead of game in efficiency-based innovation, China will still hold the cards when entering into Manufacturing 4.0 era and its GDP will keep increasing. He encourages manufacturers in China to stay connected with other counterparts with the help of digital and technological development so that they could strengthen their competitiveness by optimizing their modes of automotive production, and adopting open design& manufacturing platforms.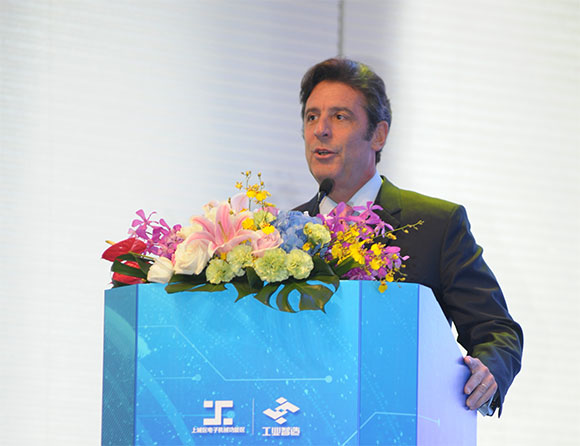 Mr. Magariños delivers keynote speech at Hangzhou Industrial Smart Manufacturing Forum
Over 3,000 business leaders and government officials have attended the forum, including representatives from Russia, Italy, Turkey, Turkmenistan, Benin, Kyrgyzstan, Uzbekistan, Tajikistan, Kazakhstan and other countries.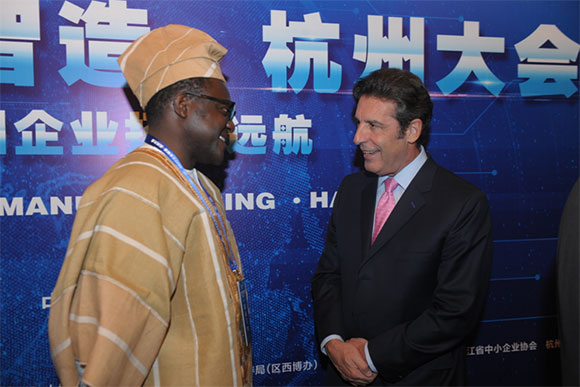 Mr. Magariños communicated with representative from The Republic of Benin