GASME News
The Third Global Social Entrepreneurs Forum Held in Beijing
The Third Global Social Entrepreneurs Forum, hosted by the Global Alliance of SMEs (GASME), Beijing Huaxia Management College, Airmedia and Shihua Zhiye Investment Group, was held in Beijing Yanqi Lake International Convention & Exhibition Center from September 9th to 11th, 2017.
Special guests to the forum include: Mr. Nicolas Sarkozy, former President of France, Mr. Christian Wulff, Global Chairman of GASME and former President of Germany, Mr. Jim Rogers, world-known investor, Mr. Jiang Lanxin, Founder of Shihua Zhiye Investment Group, Mr. Zhao Tao, Co-Founder and Chairman of Buchang Pharma, and Mr. Zhou Zhonghua, President of BizmediaGroup. With the theme of "Take on the mission, and build a harmonious society", discussions on topics such as China's economic breakthrough and social responsibilities of entrepreneurs have been heatedly carried outso as to facilitate the development of an ecological world economy.
Over the past year, "black swan events" frequently took placearound the globe: Brexit, Presidential election of Donald Trump, general election in France and Germany, government change in South Korea, together with frequent terrorist attacks and deteriorated refugee crisis, adding more uncertain, unpredictable and diverse challenges. In China, the contradiction between overcapacity and the upgrading of its demand structure was still prominent, and the endogenous driving force of economic growth lacked its momentum. DiDi taxi, shared bikes and other shared economic models emerged one after another in an overwhelming way. Those new business models have presented traditional enterprises both great opportunities and increasing potential risks. In this context, this forum was convened to help entrepreneurs analyze the overall situation and co-build an ecosystem with peaceful cooperation, openness, inclusiveness, mutual learning and mutual benefit.
Mr. Nicolas Sarkozy pointed out in his speech that Chinese entrepreneurs werethe key to China's economic success; entrepreneurs in SMEs and international organizations such as GASME would play crucial roles in the new situation. The large population of 1.3 billion makes a nation with fierce competition. If someone wants to succeed, he must work hard and fight his way out. "I feel like sitting with a group of warriors," he said.During the panel discussion, Mr.Sarkozyemphasized that brand building should go with dreams. It was not the product itself that we were to buy. Take Dior as an example. Do not simply take Dior as a bottle of perfume; instead, it symbolizeda dream, a story, a quality, and a kind of excellence.Speaking of innovation, Mr.Sarkozybelieved that innovation was much more than a technical issue; the whole production and marketing processes should continually adapt to the changes in consumer demand. Regarding the social responsibility of entrepreneurs, he acknowledged making profits as the first job for an entrepreneur. In addition to profits, employers and employees should work for a common value and philosophy. With regard to the Belt and Road initiative, Mr.Sarkozy praised it as a far-sighted strategybeneficial for both China and Europe. "Protectionism never works for the peaceful and steady development."This forum and the contributions made by GASEM over the years have received high appreciation by Mr. Sarkozy, who has expressed his willingness for more cooperation with GASME in the future.
Mr. Christian Wulff emphasized that the younger generation of entrepreneurs in Europe wanted to concretize the win-win cooperationbetween China and Europe.China and Germany have played a role in stabilizing the world, and our bilateral relation has never been so close. German industry occupies as high as 30% in the German economy. The secret of its industrial success lies in the great emphasis Germany has placed on nurturingapplication-oriented talents. Vocational education is as important as academic education. When talking about cooperation between China and Europe, Mr. Wulff appreciated the optimism of Chinese people, and acknowledged that China and Europe were perfect partners.He further pointed that the GASME was an ideal platform for both sides, which couldhelp enhance the understanding and cooperation between Chinese and European SMEs.Industry 4.0 is a brilliant opportunity. To grasp this opportunity, mutual trust is a must. Mr. Wulff confirmed his faith in the Chinese SMEs organized by GASME and hoped that Chinese SMEs would give more trust to European SMEs.
Mr. Jim Rogers pointed out in his speech that China was bound to rise. Many western scholars and investors may be concerned that China returns to an old road, but the fact has proved them wrong. China has registered the longest growth in the world. Problems do exist at the current stage, but there are no need to worry because China will continue to move forward.
Mr. Jiang Lanxinexpressed his hope to buildhis business into a social enterprise with high social responsibility and value, and devoted to realizing its social mission and addressing social problems. Social enterprises will gather more social resources and energy, which will help shape a better future for all.
Mr. Zhou Zhonghua pointed out that our era needed enterprises with strong sense of responsibility, self-pursuit and dreams, so as to truly promote the transformation and upgrading of Chinese enterprises and contribute to the rapid development of society. Mr. Christian Wulff visited Jiuxian Companyon September 11th, 2017.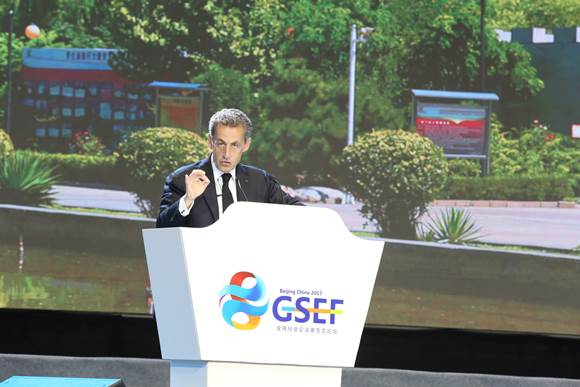 Mr. Nicolas Sarkozy delivered a keynote speech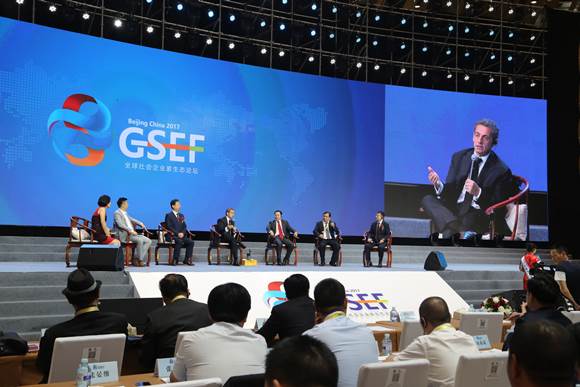 Mr. Nicolas Sarkozy dialogued with Chinese entrepreneurs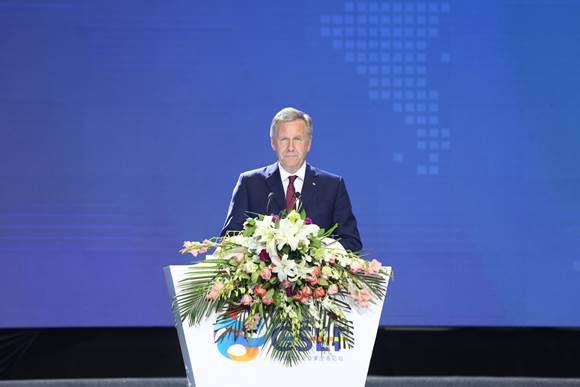 Mr. Christian Wulff delivered a keynote speech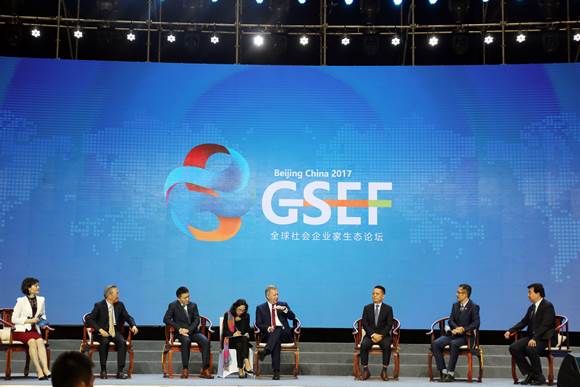 Mr. Christian Wulffdialogued with Chinese entrepreneurs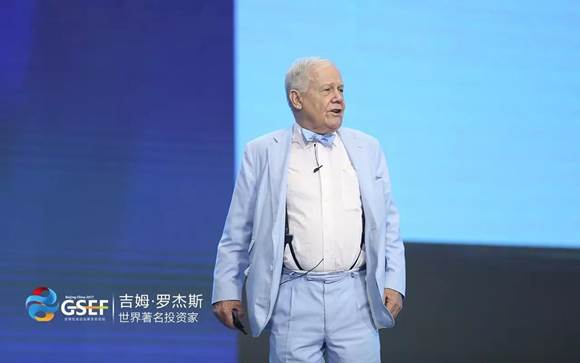 Mr. Jim Rogers delivered a speech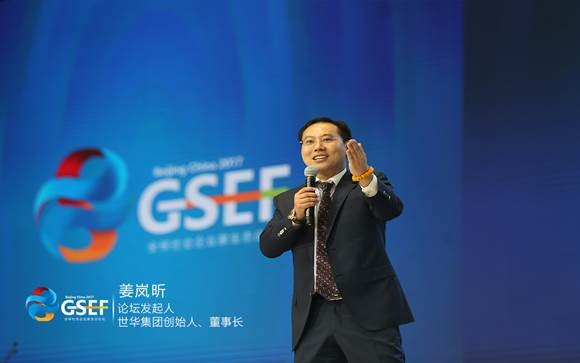 Mr. Jiang Lanxindelivered a speech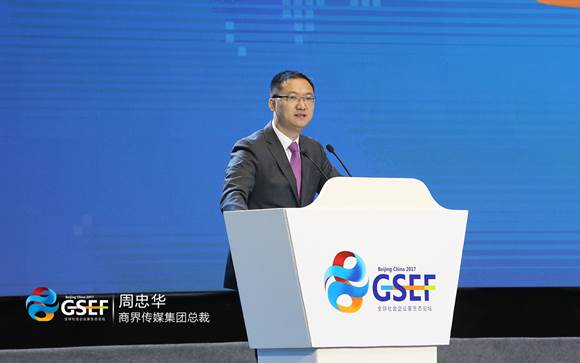 Mr. Zhou Zhonghuadelivered a speech

Mr. Zhaotaodelivered a speech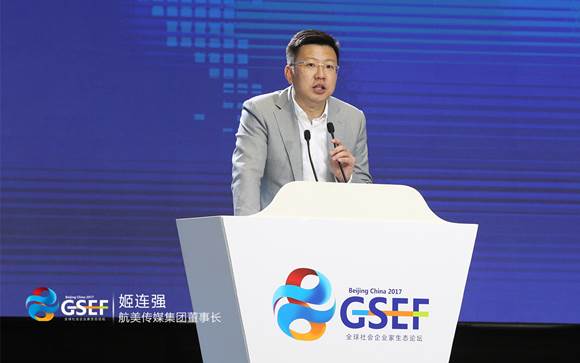 Mr. Ji Lianqiangdelivered a speech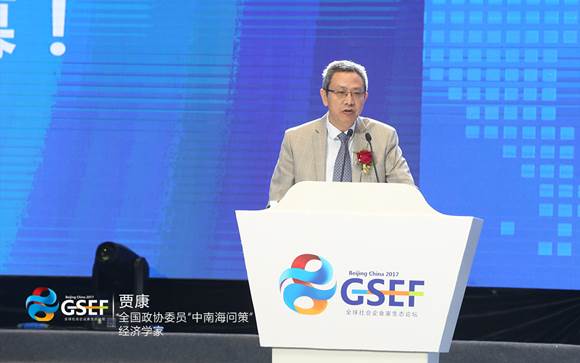 Mr. Jia Kangdelivered a speech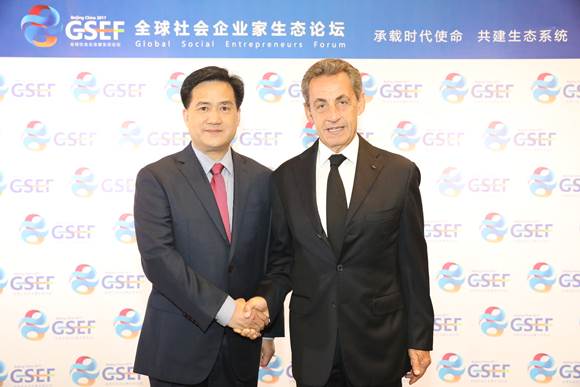 Mr. Nicolas Sarkozy andMr. Frank Cao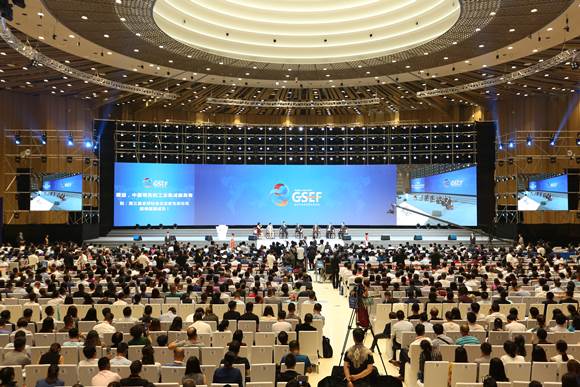 Venue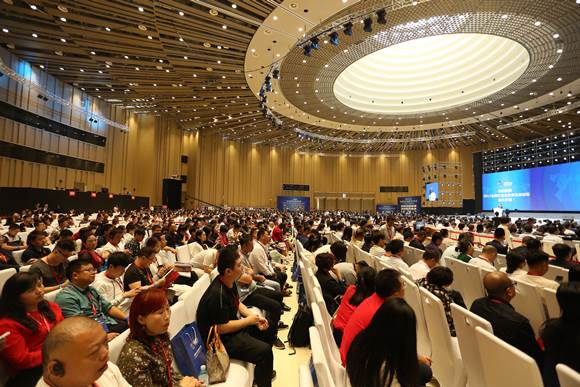 Venue