GASME News
Re-evaluating the SME policy toolbox
On Oct.30
th
, 2015, The G20 Magazine from Canada published in their November issue an article from Mr.Carlos Magariños, Global Chairman, Global Alliance of SMEs tittled "Re-evaluating the SME policy toolbox" in which he proposes a global pact to promote entrepreneurship for small and medium enterprises.
This edition "G20 Turkey: The Antalya Summit" features an exclusive analysis from leading global voices on the issues surrounding key items on the agenda of the G20.
The following is the full article.
Increased growth and more quality jobs are very much needed in a global economy that still drags its feet in the aftermath of the global financial crisis, especially when the new dynamics of emerging economies – after a decade of exceptional growth – promise additional challenges.
They are even more necessary when disruptive technological changes are shaking well-established business models and challenging traditional assumptions on consumption, resources, labour, capital and competition.
G20 leaders understand the problem well and have shown the will to face it. Their agenda has grown to be robust and ambitious, focusing on establishing a global framework for strong, sustainable and balanced growth.
At the 2014 Brisbane Summit, the G20 adopted members' individual plans to lift growth by at least 2% by 2018 and approved an ambitious initiative to expand infrastructure investment.
Leaders were concerned with making globalisation work for all by promoting inclusive growth. The 2015 G20 Turkish presidency is urging a more decisive look at developing entrepreneurship and small and medium-sized enterprises (SMEs) to achieve such a goal.
SMEs are the backbone of the real economy. They are key generators of income and employment, as well as drivers of innovation and growth.
They dominate the world business stage in number. Estimates suggest that more than 95% of enterprises in the member countries of the Organisation for Economic Co-operation and Development (OECD) are SMEs, accounting for approximately 60% of private-sector employment and 52% of private-sector value added. They represent 16% of gross domestic product (GDP) in low-income countries (in a large but informal sector) and 51% in high-income countries.
Still, SMEs are the most vulnerable sector of the economy. Unlike large companies, they need special attention. Years of research have provided some basic knowledge about the hurdles they might face making meaningful contributions to inclusive growth by generating more quality jobs.
Adapting to rapid change
Would it be too ambitious to propose that the G20 leaders create a global compact for SME and entrepreneurship development?
Unless things are done differently, there is a risk that the same, insufficient results in quality growth and job creation will persist. The SME policy toolbox needs to be consolidated, renewed and upgraded. The global economy is changing fast.
Emerging economies now contribute more than 51% of world GDP at purchasing-power parity, creating an emerging global middle class. However, companies from emerging economies still have limited participation in global market capitalisation, accounting for less than 15% of the total.
Defined as people spending between $10 and $100 per day, the global middle class accounted for 1.8 billion people in 2009, with 54% living in the United States and Europe. In 2020, that group will total 3.2 billion citizens, with 54% in Asia. By 2030, Asia will account for 43% of spending by the global middle class.
However, these important changes are just the tip of the iceberg. Urbanisation, demographics and rapid technological developments (including digitalisation and connectivity) promise yet more revolutionary developments.
A global compact for SMEs and entrepreneurship development could help unleash entrepreneurial spirit
Between 2010 and 2025, half of global GDP will come from 440 cities (95% of them being small or medium-sized cities in developing countries that are not often talked about). Milan or Madrid will be important, but they will most likely contribute far less to future growth than Cartagena or Ningbo.
Based on current trends, by 2020 demographics and technological change combined will deliver a new kind of labour market. Business will face a potential shortage of 40 million university-educated workers and a surplus of some 95 million low-skilled workers.
According to McKinsey Global Institute, there is a long list of new technological developments ready to become "the next big thing", including genomics, robotics, energy storage and renewable energy, 3D printing, cloud computing and the automation of knowledge work.
Hurdles for SMEs
A global compact for SMEs and entrepreneurship development could help unleash entrepreneurial spirit and the potential of SMEs in a global economy facing a challenging context.
While its detailed framework deserves proper thinking, past policy practice suggests a focus on limited and workable priorities to target common SMEs hurdles, for example:
Access to capital to complement traditional bank lending with instruments to strengthen asset-based finance among SMEs, including alternative debt mechanisms (corporate bonds, securitised debt, covered bonds), hybrid instruments (combining debt and equity), public SME equity markets and crowdfunding.
Access to international markets and knowledge flows. This could be achieved by working on global value chains and global production networks in order to create basic standards and disseminate knowledge for SMEs, enabling them to acquire the skills needed to participate more actively in the global economy.
Access to global and local innovation networks, public research and procurement opportunities to stimulate collaboration among universities, research laboratories and SMEs, such as environmentally sound technologies, new materials and other technologies related to climate protection.
Improved management skills, including risk assessment, strategic thinking, networking, decision-making, information processing and other similar skills through SMEs and entrepreneurship educational programmes.
Firm age and size are important. Young innovative firms are net job creators (although they could have limited weight in the economy). Teaching SMEs how to handle intangible assets and intellectual capital could also provide opportunities for new firms and create new jobs. A special SME section in multilateral trade agreements could also be explored.
Adding a local dimension and working at city or district level could also be significant. A global database of instruments' performance information and best practices could be of great help.
Government and business leaders must prepare for a very different reality. New approaches are needed even for well-known challenges, especially if we want to create jobs for inclusive, quality growth.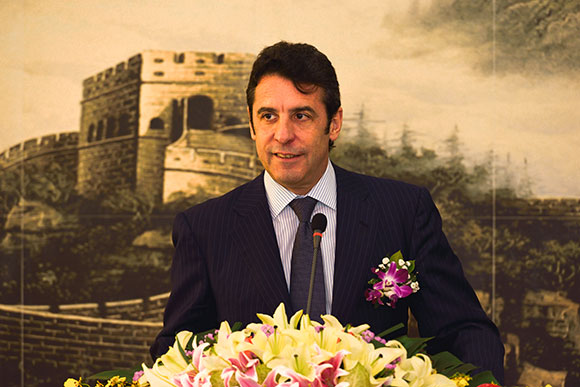 Mr.Carlos Magariños, Global Chairman of Global Alliance of SMEs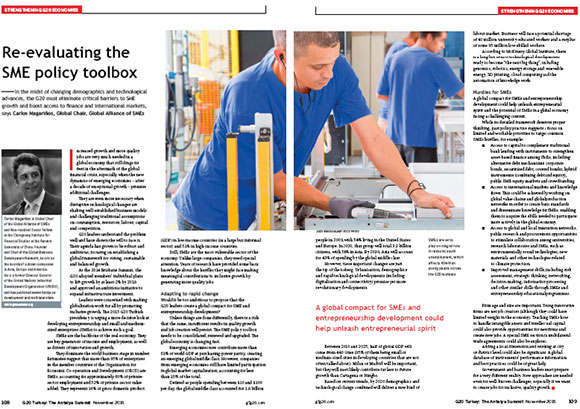 The article written by Mr. Carlos Magariños